What we're reading:
Things to do:
LONDON BRIDGE BRIEFING: Here's one for the trainspotters. Meet the team who designed and built London Bridge Station, which took home the biggest prize at this year's New London Awards. You might even get a free breakfast out of it. NLA, The Building Centre (Fitzrovia), free, book ahead, 8.30am-9.30am
ORIGINS CREATIVE ARTS FESTIVAL: Pop in to the Bargehouse to see what the bright young things on UAL's pre-degree subjects have been up to this year. Expect music and performing arts, as well as an exciting mix of painting, drawing, sculpture, video, and fashion. Bargehouse, Oxo Tower Wharf, free, just turn up, until 5 August
STREET EATS: Considering London's diverse wealth of culinary offerings, you might feel like you've tasted it all. That's where Street Eats comes in. Discover everything from Taiwanese wheel cake, to Ethiopian injera, to Persian ice cream. There's a hearty mix of meaty, veggie and vegan options — and it's all halal. Plus, if you're sick of nice, wholesome events descending into drunken rowdiness, you'll be pleased to hear that this one is booze-free. Old Spitalfields Market (Shoreditch), £10, book ahead, 10am-9pm, until 4 August
IMPRODYSSEY: As a seasoned improv troupe, The Parentheticals are no strangers to the unknown. But this comedy quest really is a leap into the dark, because you'll be deciding where they're going. Whatever adventure you choose, it's bound to be epic. Etcetera Theatre (Camden), £6, book ahead, 2.30pm, until 5 August
FLEET FOOTING: Join Sarah Grange and Katherine Cootz on a sonic adventure following the flow of a lost London river. Download their digital map and audio material and uncover the River Fleet, an ancient waterway that got buried beneath the city's urbanisation. Meet at the Vale of Health Pond (Hampstead Heath), £5, download materials in advance, 5pm-7pm
A FAMILY AFFAIR: Get a glimpse of family relationships around the world at screening of short documentaries from Germany, New Zealand, Ecuador and more. And because sometimes the only way to stay sane during family gatherings is to hit the bottle, they're letting you bring your own booze. The CentreE17 (Walthamstow), £4, book ahead, 7.30pm-10.30pm, until 5 August
THE STORY OF JIMI HENDRIX: Spend the evening in a Purple Haze, exploring the life and legacy of Jimi Hendrix through his extraordinary music. The Detroit Players have carefully curated a set list of the guitar maestro's greatest hits and lesser-known gems in a feast for the ears. The Blues Kitchen (Brixton), £12.01, book ahead, 7.30pm-10pm
WEAR: The world's first fashion opera is coming to King's Cross in the form of WEAR — an immersive  sci-fi -themed presentation that tells the tale of a trendy twosome reunited in a future without the recall necessary to examine the beauty (and cost) of the objects we create. The Crossing (King's Cross), £7.50-£9.50, book ahead, 8pm-8.45pm
GARETH SOUTHGATE SOIREE: Are you emotionally ready to relive England's World Cup successes yet? The Clapham Grand is paying homage to noted waistcoat wearer and all round decent bloke Gareth Southgate tonight with a huge party. Sing along to world cup anthems, get a free hug from 'Gareth Southgreat' and psyche yourself up for 2022. The Grand (Clapham), free entry before 11am, just turn up, 10.30pm-3am
Good cause of the day
Seize a rare chance to visit one of London's best kept secrets while raising money for charity. Lambeth Palace Gardens, the grounds of the Archbishop of Canterbury's London residence, is opening its gates for another summer open day. All of of the funds collected will go to Bede House, a charity that supports vulnerable people in Southwark.
Fun things to do with our friends and sponsor Funzing…
Take to the waters and glide about in this beginner paddleboarding session. By the end of it, you'll be standing up and paddling solo, and there's plenty of help on hand to improve your technique. Change of clothes required.  Get tickets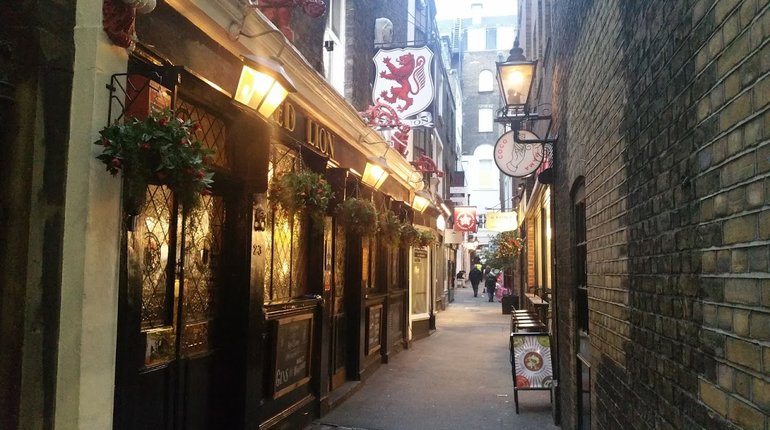 London is a city of incredible transformation. With structural remains that date back to ancient history still in existence, this unique walking tour takes in Lost London in all its former glory. From the Titanic booking office to the graveyards of man's best friend, you'll discover the weird and wonderful places that used to exist in the capital but are now only committed to memory. Using old photographs, newspaper cuttings and stories from the past, you'll be amazed at what has largely been written out of our history books…
  Get tickets
Have you visited London's Roman ampitheatre? What about London's Medieval market places? Hear weird and wonderful tales of our beautiful city as you take a walking tour, seeing everything from centuries-old churches to the hanging place of William Wallace. Whether you've lived here all your life or are visiting for a few days, you're sure to learn something new about London. Get tickets
The afterlife is an intriguing subject, but how close to ghosts do we truly want to get? For those with a fascination of all things spooky, test your limits with The Westminster Ghost Walk. You'll explore this deeply historic and fascinating area of London and hear tales of ghosts, poltergeists and body snatchers along the way. Your experienced guide will lead you through dark alleyways, haunted buildings and human burial grounds – sharing the chilling secrets London has long been hiding in its past.  Get tickets
If the article suppose to have a video or a photo gallery and it does not appear on your screen, please Click Here

2018-08-02 15:45:06 – Source: londonist.com