What we're reading:
Things to do:
LIFE IN THE DEEP BLUE: It's your last chance to see Life in the Deep Blue: Creation out of Rawness, an exhibition exploring the relationship between natural elements and artistic practice. From digital illustration to glitch art, discover the many ways in which contemporary artists utilise a marine aesthetic. Studio 73 (Brixton), free, just turn up, 11am-5.30pm
ITALIAN COOKERY DEMO: Pick up some tips for authentic Italian cooking from acclaimed food writer and chef Ursula Ferrigno, who'll be divulging the secrets of her grandmother's family dishes. Then browse Borough Market's selection of fresh pasta, meats, and cheeses to put all that inspiration to good use. Borough Market, free, just turn up, 1pm-2.30pm
RESTORING FULHAM PALACE: See how the folks at Fulham Palace are getting on with bringing the estate's long and illustrious past back to life with the help of specialist heritage site manager Steven Bevan. He'll be conducting a Q&A on the extensive restoration project and revealing what's new at the palace. Fulham Palace, free, just turn up, 3pm-4pm
WRITING HOLLOWAY PRISON: Hannah Hull, Islington Museum's resident artist and musician, has been busy creating work inspired by one of Europe's most infamous women's prisons. Explore her poetry and music and then craft your own responses, as part of the Echoes of Holloway event series. Islington Museum (Islington), free, book ahead, 2pm-4pm
VEGAN NIGHTS: Brick Lane's beloved plant-based knees up returns to bring you the best in vegan snackery. This time, they're channeling carnival vibes as the official launch party for The Old Truman Brewery's fresh season of vegan and conscious living events. The Old Truman Brewery (Brick Lane), £7, book ahead, 5pm-11pm
DARK MATTERS: Find out how one of the world's most ambitious feats of engineering, CERN's Large Hadron Collider, came into being. Constructing the world's highest energy particle accelerator that recreates conditions similar to those one millionth of a millionth of a second after the Big Bang wasn't exactly an overnight job. The Building Centre (Fitzrovia), £10, book ahead, 6.30pm
TUNNEL SHAFT SCREENINGS: Three of the world's best adventure films feature in this unique underground cinema experience — right in the heart of a Grade II* listed railway tunnel shaft. Creepy… Brunel Museum (Rotherhithe), £25, book ahead, 6.30pm-10pm (partner)
COUNTERPOINT: London's new wave of jazz-inspired musicians is making a splash at the Tate Modern tonight. This month it's a Steam Down Special, featuring grimey Afro-futuristic sounds from some banging guest DJs. Terrace Bar, Tate Modern, £5, book ahead, 7pm-11pm
NOTTING HILL: Spend the evening with Hugh Grant and Julia Roberts in Holland Park. The rom-com classic and its fanciful portrayal of the famous west London district is making a big screen comeback at Opera Holland Park's pop up cinema. Opera Holland Park (Kensington), £15, book ahead, 8pm-11pm
LOVERS ANONYMOUS: From sexuality to sex, bestiality to breaking up, nothing is off limits at your first Lovers Anonymous therapy session. Before you panic, know that it's all pretend — an immersive mix of theatre, movement and improv that explores what it's like to be in (and out) of love in the 21st century. St Pancras Community Association (Camden), £7.50, book ahead, 8.30pm
MAGNUM OPUS: Over the course of an hour, Hector Dunderbridge — playwright, author, bee wrangler, and the creation of comic improviser Leo Mates — will present his greatest ever work. That's what he thinks, of course. Expect bears, tears, and traces of Orlando Bloom. Camden People's Theatre (King's Cross), £9, book ahead, 9pm-10pm, until 4 August
Good cause of the day
Do you have couple of hours to spare each week? Fancy using them to help refugees get back into work? If so, Breaking Barriers would like to hear from you. Join them in Clapham Junction for a screening and induction day and get ready to start helping displaced people in London fulfil their potential.  
Fun things to do with our friends and sponsor Funzing…
Take to the waters and glide about in this beginner paddleboarding session. By the end of it, you'll be standing up and paddling solo, and there's plenty of help on hand to improve your technique. Change of clothes required.  Get tickets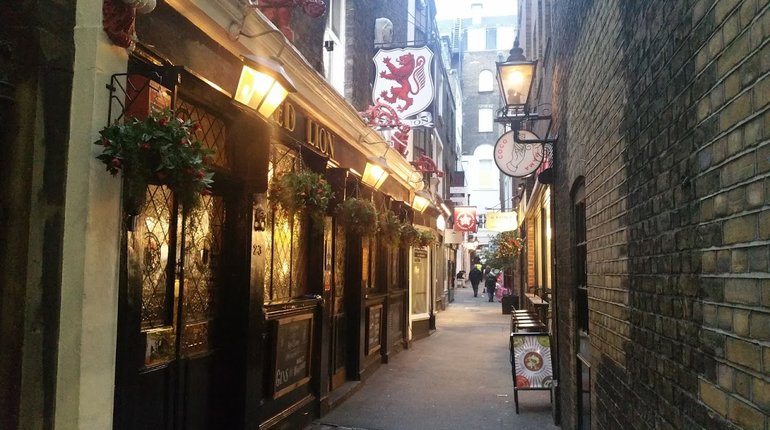 London is a city of incredible transformation. With structural remains that date back to ancient history still in existence, this unique walking tour takes in Lost London in all its former glory. From the Titanic booking office to the graveyards of man's best friend, you'll discover the weird and wonderful places that used to exist in the capital but are now only committed to memory. Using old photographs, newspaper cuttings and stories from the past, you'll be amazed at what has largely been written out of our history books…
  Get tickets
Have you visited London's Roman ampitheatre? What about London's Medieval market places? Hear weird and wonderful tales of our beautiful city as you take a walking tour, seeing everything from centuries-old churches to the hanging place of William Wallace. Whether you've lived here all your life or are visiting for a few days, you're sure to learn something new about London. Get tickets
The afterlife is an intriguing subject, but how close to ghosts do we truly want to get? For those with a fascination of all things spooky, test your limits with The Westminster Ghost Walk. You'll explore this deeply historic and fascinating area of London and hear tales of ghosts, poltergeists and body snatchers along the way. Your experienced guide will lead you through dark alleyways, haunted buildings and human burial grounds – sharing the chilling secrets London has long been hiding in its past.  Get tickets
If the article suppose to have a video or a photo gallery and it does not appear on your screen, please Click Here

2018-08-01 15:45:06 – Source: londonist.com