Looking for somewhere to watch the World Cup? Check out our full guide here. If Wimbledon is more your thing, we've got a guide on where to watch that too.
What we're reading:
Things to do:
FOUNDHER FESTIVAL: Gain pearls of wisdom from the likes of Cathy Newman, Gina Miller, and Trinny Woodhall at a three day festival for working women. As well as career-focused pep talks, there are plenty of opportunities to unwind, with comedy, life drawing, and much more. The Allbright (Fitzrovia), from £20, book ahead, 8.30am-8.30pm, until 12 July
ALI NEDAEI: Iranian portrait artist Ali Nedaei explores the mysticism of Persian mythology through his dreamlike and dynamic works. See his large scale marker pen creations at CAMA's second ever art show. CAMA Gallery (Westminster), free, just turn up, 9am-7pm
HOSPITAL RESEARCH OPEN DAY: Ever wondered what kinds of life-changing research goes on behind the scenes in London's hospitals? Royal Brompton's research day is your chance to find out. There's a dance taster class, a practical lung valve demonstration, and a mock trial involving chocolate. Royal Brompton Hospital (Chelsea), free, just turn up, 11am-2.30pm
SCIENCE EXHIBITION LATE: Hang out after hours at The Royal Society's Summer Science Exhibition. From pioneering penne pasta, to an exploration of citizen science, with plenty of cocktails in between, it's scientifically certain to be a great evening. The Royal Society (St James's), free, just turn up, 6pm-10pm
TAXI TEHRAN: Iranian film-maker Jafa Panahi won't let a little thing like being banned from making movies in his home country stop him from continuing his craft. In this playful documentary, Panahi poses as a taxi driver and, using hidden cameras, chats with his passengers about their lives and the regime that has blacklisted his work. Rich Mix (Shoreditch), £11, book ahead, 6.30pm
THREE LIONS: Need somewhere to watch the big game, in which Harry Kane will most definitely score a hat trick before the Queen parachutes down to knight him then and there on the pitch? (Hey, what's wrong with a little optimism?) Don't worry, we've got you sorted.
FLOATING ISLANDS, FLOATING LANDS: Dive into an evening of poetry and storytelling from Oceania and the Pacific Islands. Vanessa Lee-Miller, alongside guests Rhys Feeney, Giles Leaman, Rich Sylvester, Crystal Te Moananui-Squares and Sara Taukolonga explore the legendary narrative of Captain James Cook. The British Library (Euston), £10, book ahead, 7.15pm-8.30pm
MINDFUL LIVING: Deepen your awareness of the world around you at a class that marries mindfulness with sustainable living. There's an aromatherapy hand massage and some tasty snacks in it for you. Benk + Bo (Aldgate East), £15, book ahead, 7pm-9.30pm
WISDOM KEEPERS: Discover ancestral indigenous traditions from around the world with the help of Wisdom Keepers. In this workshop, Angharad Wynne will introduce you to a home grown spiritual practice from the Brythonic Tradition. Expect singing, dancing, and connection to the universe. 42 ACRES (Shoreditch), £20 suggested donation, book ahead, 7.30pm-10pm
LISA MARKWELL SUPPER CLUB: Turn the tables on former restaurant critic Lisa Markwell who, having attained her chef's diploma, is cooking up a storm at J Sheekey Atlantic Bar. Menu highlights include beetroot-cured salmon, hot duck and watermelon salad, and a roasted almond panna cotta. J Sheekey Atlantic Bar (St Martin's Court), £50, book ahead, 7.30pm-10.30pm
Good cause of the day
In this site-specific, black comedy musical, two men who both die by suicide find themselves in limbo, tasked to compete for the right to stay dead via a series of game show formats. All the profits from Game Over — at Clapham's Bread and Roses Theatre — are split between five mental health charities, CALM, HELP Counselling, Centre for Counselling & Psychotherapy Education, One in Four, and Maytree Respite Care.
Fun things to do with our friends and sponsor Funzing…
At 225 meters long – and the height of 9 double-decker buses – this isn't one for the faint-hearted. Are you brave enough to take on London's longest zip line? Take in spectacular views of the city skyline before zipping down one of three exhilarating wires with your mates.  Get tickets
Dive deep into the history of ancient London down forgotten alleyways and mysterious tunnels. Untangle the truth from myths and legends, as you explore the history of figures from Sweeney Todd to the Knights Templar.  Get tickets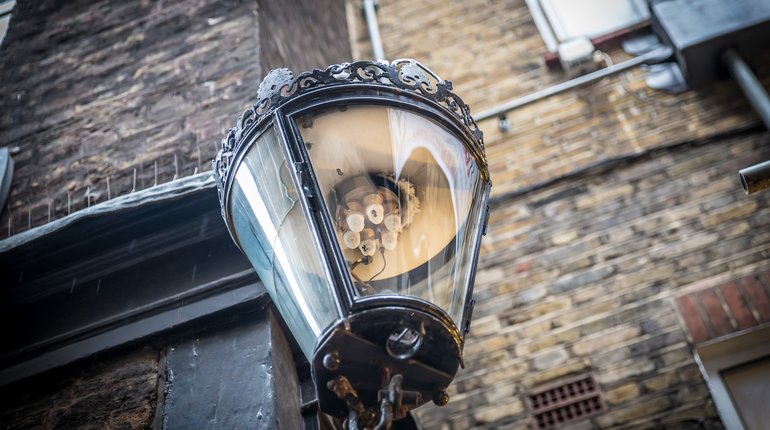 How well do you really know London? Visit the streets that inspired Harry Potter locations and see London's most superstitious hotel. On Matt's tour you will explore hidden places and discover stories unknown to even the most knowledgeable of Londoners. Get tickets
If the article suppose to have a video or a photo gallery and it does not appear on your screen, please Click Here

2018-07-02 15:45:10 – Source: londonist.com