What we're reading:
Things to do:
NORMAN ACKROYD: Harsh coastal landscapes and rocky outcrops gain a haunting beauty in Norman Ackroyd's sepia-toned etchings. See how the most hostile environments in the British Isles are brought to life using copper, ink, paper and acid. One Paved Court (Richmond), free, just turn up, until 26 May
SHAPE OF LIGHT: Journey through a century of abstract photography at the first major exhibition dedicated to the theme. Featured photographers include Man Ray, Barbara Katsen and Antony Cairns. Tate Modern, £18, book ahead, until 14 October
BIENNALE BUILDING: Get a behind-the-scenes glimpse at what it really takes to get an art exhibition up and running, as staff and students from Winchester School of Art collaborate to install large-scale artworks for a week of biennale-themed events. Stick around for a chat with Bose Krishnamachari, founding director of Kochi-Muziris Biennale in India. Tate Modern, free, just turn up, 12pm-6pm
TACOS ON THE CHEAP: If bank holiday fun has left you (and your wallet) feeling a little worse for wear, treat yourself to some recovery-aiding comfort food. Mexican street food restaurant Benito's Hat is dishing out tacos for just one pound a pop tonight to help ease you back into the week. Benito's Hat (all London locations), from £1, just turn up, 5pm
WALKING WITH BAZALGETTE: Take a revolting (but fascinating) stroll back to the Great Stink of 1858, when the untreated human waste in London's ineffectual sewer was hit by a wave of a hot weather and — well, you can imagine the rest. As a response, heroic engineer Sir Joseph William Bazalgette created a central London sewage system still in use today. Meet at Westminster tube station, £6, book ahead, 6pm-8pm
CROSSRAIL CONSTRUCTION: With work on Crossrail hurtling towards completion, Farringdon is set to become one of the busiest stations in the UK. Discover the challenges of building this major transport interchange site at this free talk from Farringdon Station Crossrail Project Manager Mujahid Khalid. Institute of Structural Engineers (Clerkenwell), free, book ahead, 6.20pm-7.30pm
THE BUZZ: Meet faded TV personality Kyla — once an overnight success, now the dress hanging onto the arm of her popstar beau. When her anti-establishment brother pays her a visit, Kyla is forced to confront the fact that she's been living a lie in this dark comedy by The Bread and Roses Playwriting Award winner Lydia Rynne. The Bread and Roses Theatre (Clapham), £12, book ahead, 7pm, until 19 May
STARRY NIGHT: Spend a night among the stars, drinking and painting your way to becoming an artist. Tonight you'll be creating a work inspired by Van Gogh's Starry Night while sipping on wine. It may not totally transform you into a Dutch master, but there's probably an Instagram like in it for you. The Jam Tree (Clapham), £28, book ahead, 7.30pm-10pm
NAP EYES: Odes to NASA meet workaday ditties about insomnia and binge drinking in Nap Eyes' latest offerings. The Canadian indie quartet are bringing their crooked and candid guitar pop to Hackney this evening. OSLO (Hackney), £10, book ahead, 7.30pm-11pm
CUTTY BANG CABARET: Expect apocalyptic humour, screaming donkey voices and a poor man's Vic Reeves (according to Noel Fielding), from this group of Geordie jokers who have come down south to show off their alt-comedy best. The Bird's Nest (Deptford), £3, just turn up, 8pm-11pm
Good cause of the day
Host a charity tea party and help change the world one smile at a time. Smile Train helps provide free cleft repair surgeries to children around the world. Sign up today and receive a complimentary kit containing recipe ideas, balloons, posters, and more.
Fun things to do with our friends and sponsor Funzing…
How well do you really know London? Visit the streets that inspired Harry Potter locations and see London's most superstitious hotel. On Matt's tour you will explore hidden places and discover stories unknown to even the most knowledgeable of Londoners. Get tickets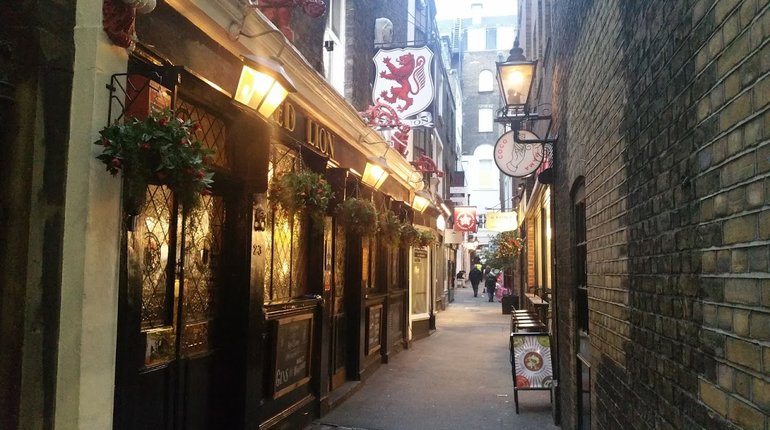 London is a city of incredible transformation. With structural remains that date back to ancient history still in existence, this unique walking tour takes in Lost London in all its former glory. From the Titanic booking office to the graveyards of man's best friend, you'll discover the weird and wonderful places that used to exist in the capital but are now only committed to memory. Using old photographs, newspaper cuttings and stories from the past, you'll be amazed at what has largely been written out of our history books…
  Get tickets
Visit old pubs, even older churches, hidden rivers, mysterious tunnels and more on this tour of hidden Londo. You'll hear tales of the myths and legends which made the City of London what it is today, and find out the area's links to nursery rhymes and literary figures. Get tickets
Have you visited London's Roman ampitheatre? What about London's Medieval market places? Hear weird and wonderful tales of our beautiful city as you take a walking tour, seeing everything from centuries-old churches to the hanging place of William Wallace. Whether you've lived here all your life or are visiting for a few days, you're sure to learn something new about London. Get tickets
If the article suppose to have a video or a photo gallery and it does not appear on your screen, please Click Here

2018-05-07 15:45:10 – Source: londonist.com