What we're reading
Things to do
WORK & PLAY DAY: It's BYOLaptop at Kube's baby-friendly co-working space, where mums can work away while little ones make friends and play. Emmanuel Church (West Hampstead), free, book ahead, 10am-3pm
KNITTING & STITCHING: Got a passion for craft? Don't miss the UK's biggest textile art, craft and design event at Ally Pally. Stock up on supplies, and get inspired or learn new skills at workshops and talks. Alexandra Palace, £15, book ahead, 10am-5.30pm, until 15 October
BLUEBIRD TEA: To celebrate Bluebird Tea Co's arrival at Camden Passage, it's throwing a massive parTEA, with tea cocktails, mini-workshops, matcha demos and plenty of cake. Free, book ahead, 6pm  
DIGITAL SKILLS: In this tech-heavy age, with the proliferation of fake news, online scams and hackers, digital skills are something we all need more of. Hone yours at this free Google Analytics workshop. Aldwych House, free, book ahead, 6.15pm-8.30pm
ANIMAL CSI: Thanks to the wonders of technology you can now see a live-streamed dissection from the Royal Veterinary College Labs, plus don some scrubs and get hands-on with a microscope. If you're of a squeamish disposition, probably best you stick to Bear Cam. Royal Institution, £16, book ahead, 6.30pm-10pm
DEFENDING STYLE: Were the Modernists bumbling fascists or ahead-of-their-time architects? This is the first of five Style: In Defence of… sessions held in the antique-filled, 19th century John Soane's building. Sir John Soane's Museum, £5-£10, book ahead, 7pm-8pm
LIFE DRAWING CLASS: Looking for an affordable life drawing class in a relaxed environment with a graceful performance artist as your subject? Head to this untutored session where you're welcome to bring your own materials. Blighty India Cafe (Tottehnam), £10, book ahead, 7pm-9pm
100 FILMS IN 100 MINUTES: A movie marathon for anyone with a seriously short attention span. Whizz through a 100 films in 100 minutes and expect to feel every emotion under the sun. Deptford Cinema, £4.50/£6, book ahead, 7.30pm
OPEN MIC NIGHT: A supportive platform for budding singers, songwriters, poets and musicians. Piano and keyboard provided. The Royal Standard (Blackheath), free, just turn up, sign up from 7.30pm, 8pm
JONI'S SOUL: Love Joni Mitchell? Then you'll love this night in homage to the talented songwriter, taking you on a nostalgic journey through her iconic albums. Half Moon (Putney), £12/£14, book ahead, 8pm
Art review: attack dogs
Savage dogs surround us, both on canvas and in sculptures, in this gallery. These attack dogs by Lavar Munroe are symbolic of those used to hunt down black men during the slave trade and the dogs that are in use by law enforcement today. It's a vicious, confrontational and powerful show. Lavar Munroe: Gun Dogs at Jack Bell Gallery, 13 Mason's Yard, SW1Y 6BU. Until 20 October, free. ★★★★☆ (Tuesday-Saturday)
Food review: A slice of New Orleans in Kingston
Kingston's Poor Boys brings New Orleans to the outer-realms of London. The whole decor captures the Cajun vibe perfectly — look out for the vintage gold till at the bar. The restaurant takes its name from the main dish it serves, a Louisiana classic, the po' (or poor) boy. The dish comes from New Orleans when the Martin Brothers gave free food to striking tram workers (who the dish was named for) — meat and seafood scraps on French loaves. That structure — apart from the scraps, it's prime cuts only here — remains in place for the tasty sandwiches Poor Boys serves today. The Reuben Boy has a touch of New Yawk about it — Salt Beef and Russian dressing  — and is solid, if not outstanding. Outshining the sandwich is the incredible mac'n'cheese topped with crispy onions. The strength of the flavour is unusual for a dish some dismiss as simple, which is what makes this so tasty.  Follow that up with one of the best brownies we've ever had — topped with a scoop of vanilla ice cream and popcorn — and you'll barely be able to move afterwards. In a good way. Poor Boys, 5 The Griffin Centre, Kingston Upon Thames, KT1 1JT★★★★☆ Harry Rosehill
Theatre review: Laughs shine through in a Stoppard classic
Tom Stoppard is a master of the verbose and meta. The Real Thing is a play he wrote at the peak of his powers, turning his skills to look inward at intimate inter-personal relationships. The play was reasonably autobiographical, but a 2017 audience is unlikely to know this, unlike the original 1982 crowd. Therefore the onus is on this modern production to make the audience connect. It does this expertly, leaning heavily into the laughs. Even if you don't completely get one of Stoppard's typically elaborate lines, the actors sell it with such conviction that it's hard to stop yourself giggling along. The stripped-back set also works in the play's favour — simple and elegant, it helps the audience to focus on the actors. Laurence Fox is fantastic in the lead role of Henry, deftly displaying both the cynical outlook and the romanticism beneath, to make the role work. His opposite number Flora Spencer-Longhurst is an equally excellent Annie, bringing a human defiance to the part. As the play strides into its more serious second act, it can at times be a struggle to follow. Snap out of it for a second and there's a fear you've missed a boatload, so much information crammed into each word. That's a recurring issue with Stoppard's plays, and although it's clearly intelligent, it never belittles the audience. Instead it brings them along for a witty and sweet ride, and many will see something they can relate to. The Real Thing, Rose Theatre Kingston, 24-26 High Street, Kingston Upon Thames, KT1 1HL £17-£45, until 14 October ★★★★☆ Harry Rosehill
Good cause of the day: make a donation to Holborn Community Association
Holborn Community Association is a lively hub hosting an under-fives play group, kids' gymnastic and pottery classes, plus it runs exercise classes and coach trips for over 55s. Alongside needing your ongoing donations, they've also got a leaky roof that needs fixing. Make a donation to make a difference.
Funzing
Fun things to do with our friends and sponsor Funzing.
The London Undergound is over 150 years old, and it's seen a thing or two in its time. Are you brave enough to face the ghosts of the Underground? Travel through the home of the Bank's Black Nun, learn about the elderly angel who saved a tube worker from death, and come to face to face with Farringdon's screaming spectre. Bring your oyster card and discover the hidden secrets of the Underground.
You'll need to have an Oyster card or travelcard for this event. Get tickets
How well do you really know London? Visit the streets that inspired Harry Potter locations and see London's most superstitious hotel. On Matt's tour you will explore hidden places and discover stories unknown to even the most knowledgeable of Londoners. Get tickets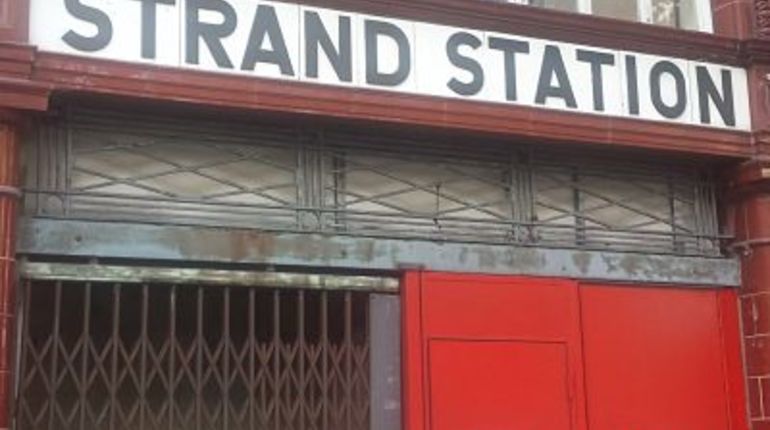 Visit old pubs, even older churches, hidden rivers, mysterious tunnels and more on this tour of hidden Londo. You'll hear tales of the myths and legends which made the City of London what it is today, and find out the area's links to nursery rhymes and literary figures. Get tickets
If the article suppose to have a video or a photo gallery and it does not appear on your screen, please Click Here

2017-10-10 16:45:07 – Source: londonist.com