What we're reading:
Things to do:
LIFE HACK POP UP: Get yourself down Airtasker's Life Hack Pop Up, where expert taskers will be dishing out DIY and renovation advice as you enjoy free coffee, burgers, and ice cream. If that's not motivation enough, you can always try your hand at their Wheel of Fortune for the chance to get someone else to do your dirty work for you. Box Park Shoreditch, free, just turn up, 8am-8pm
GASWORKS BREAKFAST: Get to know the Gasworks team over coffee, tea and pastries at their free drop-in breakfast event. You'll also have a chance to take a look around their current exhibitions, including Buenos Aires-based artist Osías Yanov's first UK solo art show. Gasworks (Lambeth), free, just turn up, 8.30am-10.30am
VR LAS VEGAS: Take a trip to Sin City with the help of graffiti artist INSA, whose virtual reality art brings the glitz and glamour of Las Vegas to Flat Iron Square. There's also a live DJ set and the chance to win a trip to Vegas. Flat Iron Square (Southwark), free, just turn up, 6-8 June
BABBLE TALKS: Beat baby brain with a proper grown up discussion in an informal setting that your tot can tag along to. This month's topic is 'bacteria and you', an exploration of the deepest and darkest corners of our guts with geneticist Dr Charlotte Mykura. The Wheatsheaf (Tooting), £7.50, book ahead, 11.30am-12.30pm
DOWN AND OUT LIVE: George Orwell's damning tome on poverty in 1930s Paris and London remains depressingly relevant, which is why The Orwell Foundation has transformed it into an immersive theatrical event combining performance, music, film, poetry and storytelling. The show will be followed by an expert panel discussion on the political solutions that could help solve contemporary homelessness and poverty. Stone Nest (Shaftesbury Avenue), free, book ahead, 2pm-6pm/panel debate from 6.30pm
---
Sponsored listings
Sounds Like London: our picks today
June brings the Mayor of London's Sounds Like London campaign to the capital — a month-long celebration of both women in music and London's grassroots music scene. Here's our pick of today's Sounds Like London events:
BLACK DOLDRUMS: Things are about to get heavy down in New Cross as psych duo Black Doldrums headline a night of angst driven music. New Cross Inn, £4, 7pm, 6 June
SLIM CESSNA'S AUTO CLUB: Experimental Colorado rock group arrive in London to make a statement. Expect cowboy hats and banjo. Omeara, £16.50, 7.30pm, 6 June
---
STRAIGHT JACKET: Matthew Todd, editor of Attitude magazine and author of the critically acclaimed Straight Jacket, is popping into Middlesex Uni to discuss the issues raised by his book. Are LGBT+ people trapped in a cultural and social straitjacket? And, if so, what can be done to make gay lives happier? College Building, Middlesex University (Hendon), free, book ahead, 5.15pm-6.30pm
YRSA DALEY-WARD: Celebrated poet Yrsa Daley-Ward invites you to an evening of poetry and memoryat The British Library as she launches her new lyrical memoir, The Terrible. Surreal magic, redemption through self-discovery and the bonds of family are explored through poetry and prose in this raw coming of age story. The British Library (Euston), £10, book ahead, 7pm-8.15pm
THE BIG SESSION: As the countdown to World Gin Day continues, BULLDOG Gin has curated a bespoke gin-soaked concert in aid of Nordoff Robbins. Gorgon City headlines, alongside Groove Armada's one and only Tom Findlay, Housekeeping, and Siggy Smalls. Printworks London (Surrey Quays), from £10, book ahead, 7pm-11pm
ERROL LINTON: Three times Best Blues Harmonica player Errol Linton is showing off his shiny new album with the help of his full band. Your ticket includes free tea and coffee, or you can grab a glass of something stronger at the neighbouring pub. Sands Films (Rotherhithe), £14, book ahead, 7.45pm
QUEER CABARET: This drag-circus-burlesque spectacular really is the stuff of Fantasy, having been loosely inspired by iconic diva Mariah Carey. Tonight's fierce, fabulous and freaky artistes include Baby Lame, Crystal Beth, and aerial boylesque duo Danny Ash and Just Joe. Underbelly Festival (South Bank), £17, book ahead 9.30pm-10.30pm
Good cause of the day
Enjoy an evening of Syrian cuisine while raising money for the Hands Up Foundation, a charity that supports healthcare and education in Syria. If you can't make tonight, why not look into at hosting your own supper, with the help of the Syrian Supper Club team?
Fun things to do with our friends and sponsor Funzing…
How well do you really know London? Visit the streets that inspired Harry Potter locations and see London's most superstitious hotel. On Matt's tour you will explore hidden places and discover stories unknown to even the most knowledgeable of Londoners. Get tickets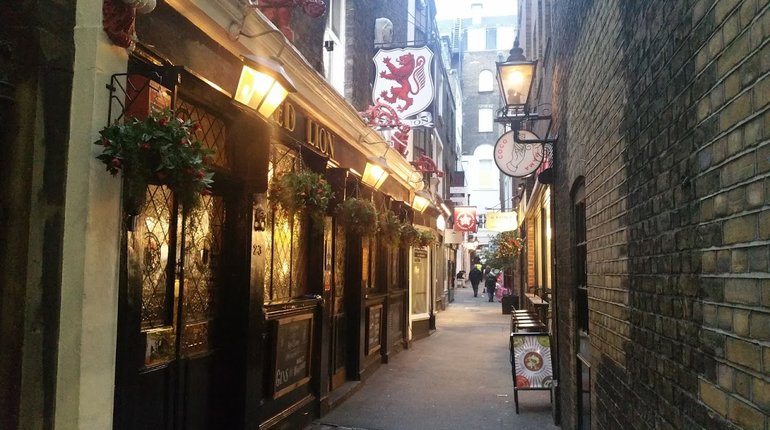 London is a city of incredible transformation. With structural remains that date back to ancient history still in existence, this unique walking tour takes in Lost London in all its former glory. From the Titanic booking office to the graveyards of man's best friend, you'll discover the weird and wonderful places that used to exist in the capital but are now only committed to memory. Using old photographs, newspaper cuttings and stories from the past, you'll be amazed at what has largely been written out of our history books…
  Get tickets
Visit old pubs, even older churches, hidden rivers, mysterious tunnels and more on this tour of hidden Londo. You'll hear tales of the myths and legends which made the City of London what it is today, and find out the area's links to nursery rhymes and literary figures. Get tickets
Have you visited London's Roman ampitheatre? What about London's Medieval market places? Hear weird and wonderful tales of our beautiful city as you take a walking tour, seeing everything from centuries-old churches to the hanging place of William Wallace. Whether you've lived here all your life or are visiting for a few days, you're sure to learn something new about London. Get tickets
If the article suppose to have a video or a photo gallery and it does not appear on your screen, please Click Here

2018-06-05 15:45:00 – Source: londonist.com