Nancy Writebol, an American nurse with Ebola, has arrived at Emory University Hospital in Georgia after a nearly day-long trip from Liberia.
Two people in protective coverings were seen bringing Writebol into the hospital on a stretcher. She was completely covered in a hazmat-style suit.
The plane carrying Writebol, 59, was the same one that earlier carried another American with Ebola, Dr. Kent Brantly, when he arrived in the United States Saturday. Before landing at Dobbins Air Reserve Base in Atlanta, Writebol's plane stopped in Bangor, Maine, and before that, at a Portuguese air base off the coast of Africa.
Ohio Woman Being Tested for Ebola
Patient at New York City Hospital 'Unlikely' to Have Ebola, Officials Say
Liberia's Medical Conditions Dire Even Before Ebola Outbreak
Writebol was working with the missionary charity SIM USA to help treat Ebola patients in Monrovia, Liberia, when she contracted the disease.
Before she took off for the flight, the charity she was working for put out a statement Monday saying that she was in serious but stable condition and was showing signs of improvement, including an increasing appetite. Officials are expected to give an update on her condition this afternoon.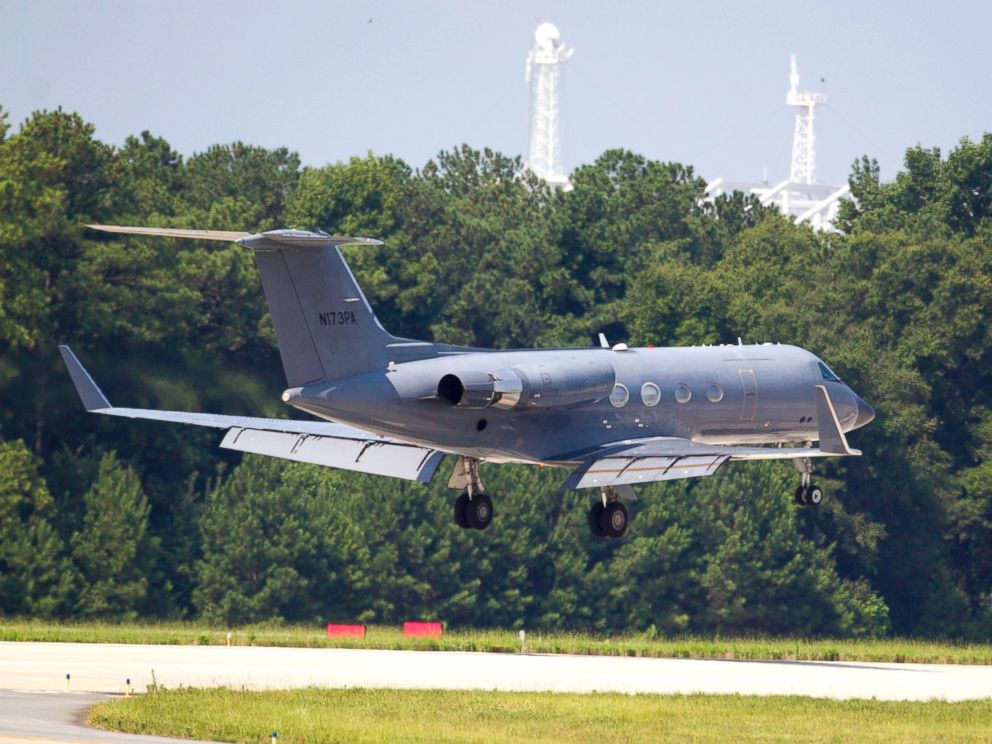 Todd Kirkland/AP Photo
PHOTO: A private plane arrives at Dobbins Air Reserve Base in Marietta, Ga. transporting the second American stricken with Ebola, Nancy Writebol, on Aug. 5, 2014.
Like Brantly, who was seen walking from an ambulance into the hospital Saturday, Writebol will be treated at Emory University Hospital in Atlanta. Brantly's family has been able to visit him, though Brantley is kept separated by glass partitions.
Relatives of both Brantly and Writebol met for the first time Monday night and prayed together. Brantly's family has called on the public to pray for Writebol and the Writebols are said to be very thankful for that support.
Writebol's husband, David Writebol, was in Liberia with her and will be arriving in the United States in "a few days," according to the statement put out by SIM on Monday.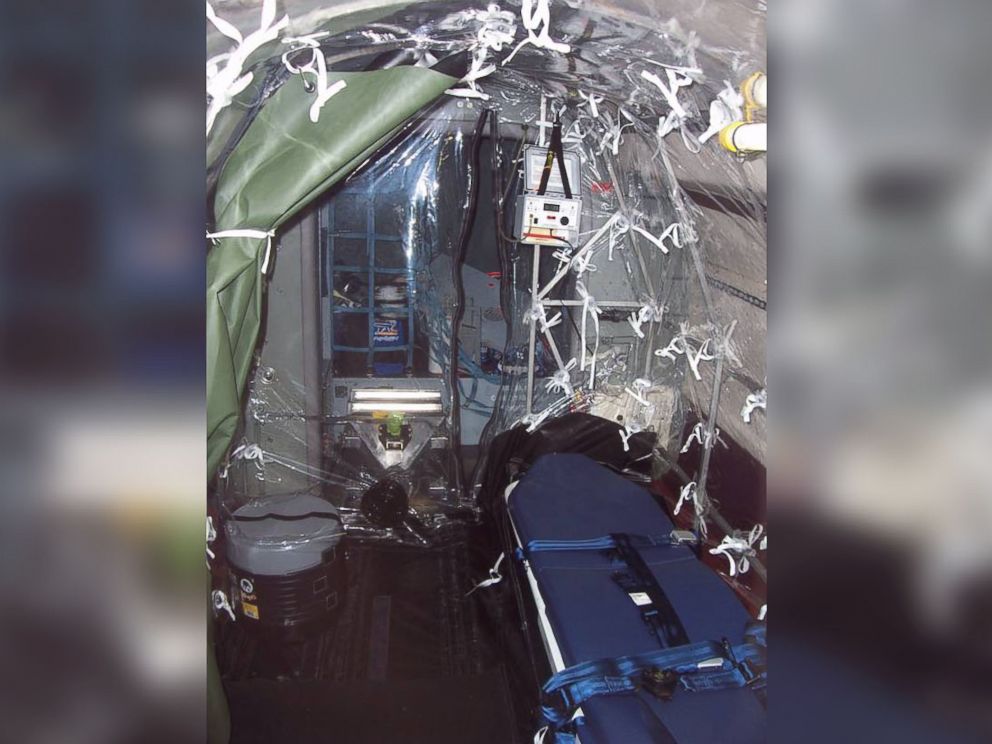 U.S. Centers for Disease Control
PHOTO: The ABCS protects the flight crew from the possibility of being infected by the patient.
Her arrival in the United States came after health officials in New York lessened fears that a case of Ebola was possible at New York's Mount Sinai hospital, and other U.S. hospitals were treating potential cases cautiously.
"After consultation with CDC and Mount Sinai, the Health Department has concluded that the patient is unlikely to have Ebola," an official at the New York City Health Department said. "Specimens are being tested for common causes of illness and to definitively exclude Ebola."
That was not the only international scare reported overnight, as the Saudi Arabian Health Ministry reported that it was testing a man who recently traveled to Sierra Leone, one of the countries with confirmed cases of Ebola.
The man, 40, who has not been identified, is reportedly presenting symptoms of hemorrhagic fever and is in critical condition but is still undergoing tests to rule out other illnesses. He remains in isolation at a hospital in Jeddah, Saudi Arabia.
Get real-time updates as this story unfolds. To start, just "star" this story in ABC News' phone app. Download ABC News for iPhone here or ABC News for Android here.
If the article suppose to have a video or a photo gallery and it does not appear on your screen, please Click Here

5 August 2014 | 5:56 pm – Source: abcnews.go.com