The new technology of 3D printing has many practical uses – not least of which is customised dildos. Now BMW is putting the technology to use at its Munich car plant to help safeguard its workers.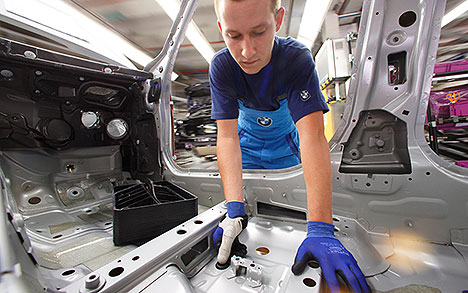 The German car manufacturer is 3D-printing custom thumb guards for the workers assembling cars to reduce the stress placed on their joints.
Working with the Department of Ergonomics at the Technical University of Munich, BMW says that the "flexible thumb gloves" are created individually by scanning each recipient's hand in a mobile hand scanner, customised to the match the form and size of a worker's hand.
The company says that the orthotic devices are applied as part of a pilot project in an assembly area where rubber plugs are fitted. The plugs have to be pressed in with the thumb and close, among other things, the drain holes for the vehicle's paint coat.
"Even for people with strong hand muscles, this movement requires a certain effort," BMW says.
"In order to prevent the unnecessary overstretching of the thumb joint, the finger cots made of thermoplastic polyurethane are put over the thumb like a second skin.
"In initial practical tests, the feedback of workers was very positive. It is currently being evaluated how the assembly aids can be applied as standard tools in further production areas."
No word yet on whether BMW plans to eradicated human workers altogether and just 3D print its cars.
If the article suppose to have a video or a photo gallery and it does not appear on your screen, please Click Here

Source:techdigest.tv
———————————————————————————————————————