Over a year after it was first announced, the UK music startup described as "the most ridiculous digital music launch in history" will finally be available to punters tomorrow.
Electric Jukebox bundles music with a £169 remote control and a dongle, so you can play tunes on your TV. After that, it's £52 a year, and the company says Argos and Selfridges will be trying to shift the units. The remote control has voice search, and the dongle goes into your TV's HDMI port.
This makes Electric Jukebox ideal for people who have a modern TV with decent speakers, but don't have a smartphone or a tablet. Unfortunately, the intersection of this Venn diagram ("Expensive_TV ∩ No_Smartphone") may in reality be smaller than the backers hope. Started by Rob Lewis, who also founded Silicon.com, Omnifone and Rara, Electric Jukebox has raised £7m and is reportedly seeking an AIM listing.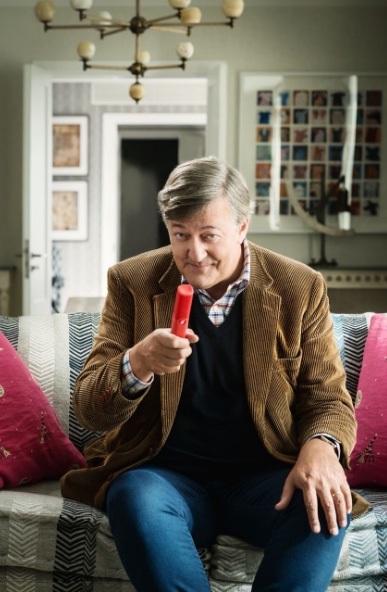 "And if you keep saying it looks like a sex toy, I'm going to… I'm going to… "
Unlike other services, however, Electric Jukebox doesn't offer any offline access on other devices such as a phone or tablet, or via the web. There's no app.
And if all that wasn't enough of an uphill struggle, Electric Jukebox must also carry The Curse of Fry. Fry provides the promotional voiceovers and his own "curated playlists", and is reportedly an investor. What could possibly go wrong?
Quite a lot already, it seems.
The venture was unveiled at BAFTA in October 2015, with the then Culture Secretary John Whittingdale giving his blessings in "a keynote address" on "The future of technology and media in the UK". An Advisory Board was announced with (mostly retired) bigwigs from finance and the music industry.
But Electric Jukebox missed several launch deadlines – Christmas 2015, Easter 2016 – The Memo reports.
Why the delay?
"The team have spent the last year refining the product and working on license and publisher deals. As a result the pricing is very aggressive," a spokesperson told us.
Let's have a look at that aggressive pricing, using Electric Jukebox's own figures:

It's indisputable that the annual subscription fee for Electric Jukebox is lower than the annual cost of subscribing to a single-user pack from Apple or Spotify, or many other streaming services. But the saving only kicks in once the cost of the expensive remote controller has been amortised in the second year of ownership.
Will Electric Jukebox be around then? Its celebrity investors hope so. But only time will tell. ®
Sponsored:
Customer Identity and Access Management
If the article suppose to have a video or a photo gallery and it does not appear on your screen, please Click Here

8 November 2016 | 3:02 pm – Source: theregister.co.uk

[ad_2]