Let's face it, these days pop divas are ten a penny, but there will only ever be one Cher, the diva so fabulous she doesn't need a last name.
During her career Cher has seen the likes of Christina Aguilera, Lady Gaga, Miley Cyrus. come and go but she's still around, doing her thing after decades in the entertainment industry.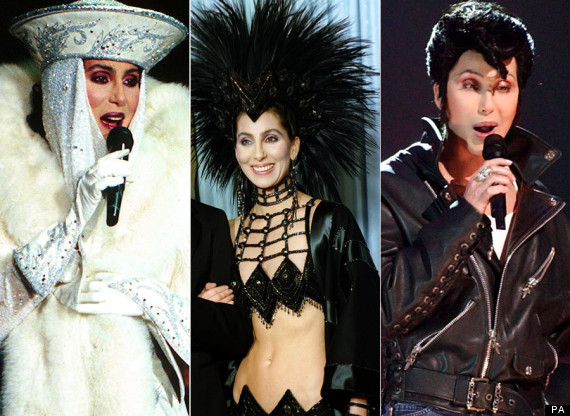 Cher in some of her most memorable outfits
She's topped the charts all over the world with her signature hits 'Believe', 'If I Could Turn Back Time' and 'The Shoop Shoop Song' to name but three (we could go on if you really want us to) and her movie career has seen her star opposite acting giants including Jack Nicholson, Bob Hoskins and Winona Ryder.
Cher even managed to bag herself an Oscar for her performance in 'Moonstruck' where she delivered the iconic line, "Snap out of it" as only she really could, though for some reason she failed to make the Academy Awards double after starring in 2010's 'Burlesque'. A cruel oversight if ever there was one.
What we really love about Cher though, is her unusual and wild fashion choices. Whether she's sampling an array of colourful wigs, straddling a cannon in fishnets and a leather jacket or appearing onstage semi-nude well into her sixties, there's never a dull moment when it comes to the diva's outfit choices.
And so, as the showbiz legend turns 68 – yes, you read that number right – we're looking back at some of her most fabulous, outrageous and downright crazy outfit choices…
Loading Slideshow
Cher's Most Memorable Outfits

Cher's Most Memorable Outfits

Cher's Most Memorable Outfits

Cher's Most Memorable Outfits

Cher's Most Memorable Outfits

Cher's Most Memorable Outfits

Cher's Most Memorable Outfits

Cher's Most Memorable Outfits

Cher's Most Memorable Outfits

Cher's Most Memorable Outfits

Cher's Most Memorable Outfits

Cher's Most Memorable Outfits

Cher's Most Memorable Outfits

Cher's Most Memorable Outfits

Cher's Most Memorable Outfits

Cher's Most Memorable Outfits

Cher's Most Memorable Outfits

Cher's Most Memorable Outfits

Cher's Most Memorable Outfits

Cher's Most Memorable Outfits

Cher's Most Memorable Outfits

Cher's Most Memorable Outfits

Cher's Most Memorable Outfits

Cher's Most Memorable Outfits

Cher's Most Memorable Outfits

Cher's Most Memorable Outfits

Cher's Most Memorable Outfits

Cher's Most Memorable Outfits

Cher's Most Memorable Outfits

Cher's Most Memorable Outfits

Cher's Most Memorable Outfits

Cher's Most Memorable Outfits

Cher's Most Memorable Outfits

Cher's Most Memorable Outfits

Cher's Most Memorable Outfits

Cher's Most Memorable Outfits

Cher's Most Memorable Outfits

Cher's Most Memorable Outfits

Cher's Most Memorable Outfits

Cher's Most Memorable Outfits

Cher's Most Memorable Outfits

Cher's Most Memorable Outfits

Cher's Most Memorable Outfits

Cher's Most Memorable Outfits

Cher's Most Memorable Outfits

Cher's Most Memorable Outfits

Cher's Most Memorable Outfits

Cher's Most Memorable Outfits

Cher's Most Memorable Outfits

Cher's Most Memorable Outfits

Cher's Most Memorable Outfits
Also on HuffPost:
";
var coords = [-5, -72];
// display fb-bubble
FloatingPrompt.embed(this, html, undefined, 'top', {fp_intersects:1, timeout_remove:2000,ignore_arrow: true, width:236, add_xy:coords, class_name: 'clear-overlay'});
});
20 May 2014 | 12:55 pm – Source: huffingtonpost.co.uk
———————————————————————————————————————