Science and art are often seen as opposing ways of looking at the world. However, as Einstein liked to say, they are just "branches of the same tree." The entrants for this year's American Society for Microbiology's Agar Art competition have neatly showcased this overlapping harmony between art and science.
The American Society for Microbiology (ASM)'s first-ever agar contest saw 85 submissions from an assortment of scientists and artists. The art pieces use petri dishes as their canvas and bacteria, yeasts and proteins as their paints. Entries were judged on their creativity and aesthetic appearance, as well as their scientific interest. The submissions ranged from portraits, cityscapes, selfies, geometric shapes to trippy psychedelic patterns.
Image credit: Mehmet Berkmen and Maria Penil/American Society for Microbiology 
The winner was Mehmet Berkmen of New England Biolabs and artist Maria Penil, who created a piece called "Neurons" that used yellow Nesterenkonia, orange Deinococcus and Sphingomonas bacteria to illustrate the natural beauty of neurons. They placed the microbes at 30 degrees celsius (80oF) and let them do their thing for two days.
Image credit: Christine Marizzi/American Society for Microbiology
Second place was awarded to Christine Marizzi, who came up with a clever homage to New York City. The piece drew upon New York City's vibrant diversity of cultures, both human and microbial. They invited 50 members of the public to participate in creating the map using harmless Escherichia coli K12 bacteria colored with fluorescent proteins.
Image credit: Mehmet Berkmen and Maria Penil/American Society for Microbiology 
The "people's choice" was Mehmet Berkmen and artist Maria Penil, who got the most likes in a Facebook album of entries. Their art was called "Cell to Cell" and used Deinococcus and Sphingomonas bacteria.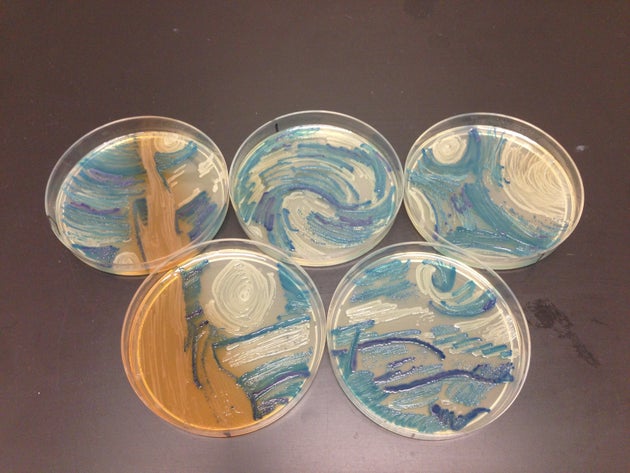 Image credit: Melanie Sullivan/American Society for Microbiology
Another one of the stand-out entries was Melanie Sullivan's reinterpretation of Van Gogh's iconic oil painting "The Starry Night."
This isn't the first time microbes have been used to create works of art. The molecular biologist Simon Parkes has used it as a technique to express and communicate the complexity of microbial life, while Brazilian artist Vik Muniz has used bacteria as a medium to make an artistic statement on technology and life.
It's the first year for the competition, although the ASM hopes to host another contest next year. You can check out many of the best entries on the ASM Facebook page. 
If the article suppose to have a video or a photo gallery and it does not appear on your screen, please Click Here

22 October 2015 | 12:32 am – Source: iflscience.com

[ad_2]