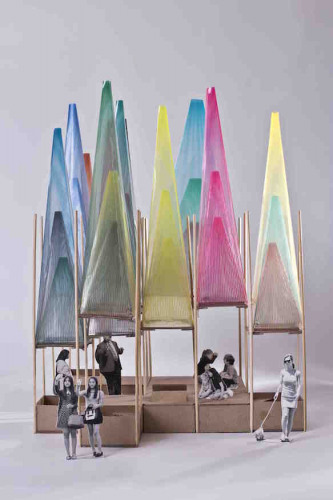 Art festival London Bridge Live Arts is back next week, exploring the theme of 'exchange'.
Head to the riverside by the famous crossing, and you can see all kinds of installations, talks and performances as well as taking part in workshops and trails around the area.
Look out for the Live Arts Pavilion in Potters Field Park from 21-27 August, 33 multi-coloured angled towers, up to 6m tall, strung with different coloured threads. Further along the river, I Believe in You by artist Tine Bech brings light and colour to London Bridge City Pier: you can change the colours by walking through the space and using social media.
If you're into unusual theatre performance, don't miss BED with Bernadette Russell, a one-on-one show, exploring magic, dreams, the power of suggestion and the wonder of stories. If that sounds a little intense for some, try Somewhere London Bridge, a mix of walking tour, performance, storytelling and improv.
There are also workshops from local institutions like the Unicorn Theatre and the Fashion and Textile Museum; talks from Soapbox Science; and drawing classes with Art Macabre.
For more info, to book workshops and for the full programme for London Bridge Live Arts visit atlondonbridge.com/livearts.
London Bridge Live Arts runs from 17-30 August.
BED with Bernadette Russell will be in Potters Fields Park on 22 August
Join in some 'death drawing' with Art Macabre between 6 and 8pm on 27 August in Gibbon's Rent Community Garden
Soapbox Science features women scientists giving insightful and inspiring talks. See them in Potters Fields Park from 1pm on 23 August.
If the article suppose to have a video or a photo gallery and it does not appear on your screen, please Click Here

10 August 2015 | 1:00 pm – Source: londonist.com

[ad_2]