The Wall Street Journal's Daily Report on Global Central Banks for Wednesday, August 6, 2014:
DOUGLAS' TAKE: BOE'S MPC NEARING DIVISION ON RATE PATH 
Bank of England officials meet Wednesday and Thursday to review the latest developments in the U.K. economy and decide whether or not to raise interest rates. The outcome could be a split vote, the first since June last year, when outgoing governor Mervyn King was defeated in a last-ditch push for more bond buying.
A majority of officials led by Gov. Mark Carney are expected to keep the BOE's benchmark rate at a historic low of 0.5%, at least for now. Rapid growth has sent unemployment tumbling, but officials have signaled they are minded to stay on hold until there is stronger evidence the economy is nearing full strength and inflationary pressures are mounting.
In particular, policy makers are uneasy at the feeble pace of wage growth, which they fret could mean Britons would struggle to cope with higher borrowing costs. Average weekly earnings, excluding erratic bonus payments, rose a paltry 0.7% in the three months to May, the worst performance on record, according to official data.
Weak wage growth implies there is still plenty of slack in the labor market to keep a lid on inflation. The problem that officials are grappling with is that other data suggest slack elsewhere in the economy, such as unused capacity within companies, is being eaten away fast, if it hasn't disappeared already. Moreover, a hoped-for revival in productivity, which should help keep price pressures at bay, has yet to materialize, raising unsettling questions about the economy's long-term prospects and its ability to expand without stoking inflation.
These and other conflicting signals mean the debate over when to raise interest rates is heating up. Recent strong data, particularly from Britain's powerhouse services sector, will only have added fuel to the fire.
Minutes of the Monetary Policy Committee's last two meetings have emphasized that for some rate-setters, the decision on whether or not to tighten is becoming "more balanced." Translated from central-bank speak, this means some on the panel are getting closer and closer to voting for a rate hike. Those getting itchy feet, according to analysts, are probably Martin Weale, a former academic who voted for higher rates in 2011, and Ian McCafferty, who has advocated starting the tightening cycle early to ensure it is smooth and gradual.
August coincides with the MPC's quarterly forecasting round and could be the month the panel's deepening divisions spill out into a public disagreement over when to raise rates. Minutes of their deliberations and a breakdown of the MPC's vote will be published Aug. 20. A majority is expected to swing behind a rate increase either late this year or early in 2015.
-By Jason Douglas
MORNING MINUTES: KEY DEVELOPMENTS AROUND THE WORLD
Fed, FDIC Rebuke Bankruptcy Plans of 11 of Nation's Biggest Banks. In a sweeping rebuke to Wall Street, U.S. regulators said 11 of the nation's biggest banks haven't demonstrated they can collapse without causing broad, damaging economic repercussions and ordered them to show "significant" progress by July 2015. The Federal Reserve and the Federal Deposit Insurance Corp. said bankruptcy plans submitted by big banks make "unrealistic or inadequately supported" assumptions and "fail to make, or even to identify, the kinds of changes in firm structure and practices that would be necessary to enhance the prospects for" an orderly failure.
Fed's Fisher: FOMC Moving Toward Hawkish Stance. Federal Reserve Bank of Dallas President Richard Fisher said Tuesday he didn't need to dissent at last week's monetary policy meeting because his fellow central bankers are increasingly gravitating toward his hawkish interest rate outlook. Many thought Mr. Fisher might dissent at last week's policy meeting given his concerns, but that didn't happen.
NY Fed Announces New Test Program For Trading In Mortgage Securities. The Federal Reserve Bank of New York said Tuesday it's launching a test program to find small financial firms with whom it can trade mortgage bonds. The new effort, known as the Mortgage Operations Counterparty Pilot Program, is another chapter in the Fed's long-running effort to broaden the universe of firms it can trade with.
New York's Financial Regulator Questions Fed Oversight of MetLife. New York's top insurance regulator and members of Congress are raising questions about federal efforts to subject MetLife Inc. to additional regulation as the company mounts a late push to avoid Federal Reserve oversight. Benjamin Lawsky, New York's superintendent of financial services and the current regulator of New York-based MetLife, told a council of top financial supervisors last week that the company "has an active primary regulator carefully monitoring the conditions of the firm."
Economists Prove The Success of ECB's OMT. Three economists have put their brains and formulas together and have just published an ECB working paper to quantify exactly how successful the commitment to buy bonds in an unlimited capacity, through what it calls "outright monetary transactions," or OMT,  has been. By using high-frequency data, the economists say that simply announcing OMTs have "decreased the Italian and Spanish two-year government bond yields by about two percentage points, while leaving unchanged the bond yields of the same maturity in Germany and France."
Italy Slips Back Into Recession in Second Quarter. Italy fell back into recession for the third time in five years, data showed Wednesday, with gross domestic product dropping 0.2% in the second quarter of 2014 from the previous three months.
ECB Warns Hungary on Aid to Foreign-Currency Borrowers. Hungary has failed to consult the European Central Bank on its latest legislation to help foreign-currency borrowers, while the new law will strain the country's financial sector and may harm its economy and financial markets, the ECB said Tuesday.
China's Economy Seeing a Summer Rebound. China's economy likely did well in July, according to the latest data and economists' forecasts, thanks to a combination of government stimulus and resurgent demand for Chinese exports.
RBI's Rajan Sees Risk of Financial Markets Crash. Reserve Bank of India Governor Raghuram Rajan warned Wednesday that the global economy bears an increasing resemblance to its condition in the 1930s, with advanced economies trying to pull out of the Great Recession at each other's expense.
Bank of Thailand Holds Benchmark Rate at 2%. Thailand's central bank kept its key interest rate steady at 2% Wednesday, betting that a pickup in U.S. activity and a firmer domestic outlook following a military coup in May will suffice to propel the local economy. 
Brazilian July Inflation Report Might Offer Some Relief, But Pressures Remain. Brazil's July and August inflation reports might bring the country's government some relief over rapidly rising prices. But the end of a seasonal food-price effect and the weak economy mean the relief will probably be only temporary.
Bank Of Russia: Food Import Ban Complicates Inflation Policy – Interfax. The Bank of Russia warned Tuesday that a ban on food imports from some European countries may fuel inflationary expectations, Interfax news agency reported. The Bank of Russia is countering stubbornly high inflation, which got a boost from the weak ruble earlier this year amid fears of Western sanctions. In what seemed to be a retaliation against the sanctions, Russia has banned imports of fruit and vegetables from Poland and was considering to stop buying vegetables from Ukraine.–Dow Jones Newswires
GRAPHIC CONTENT
The four major central banks — the Fed, BOE, ECB and BOJ — have adopted unconventional monetary policy in the last several years. The Institute for Monetary and Economic Studies at the Bank of Japan breaks reviewed each measure and studied the effectiveness of quantitative easing on the interest rate, exchange rate, inflation rate and inflation expectation. Titled "We Are All QE-sians Now," the report includes a comparison of each bank's balance sheet.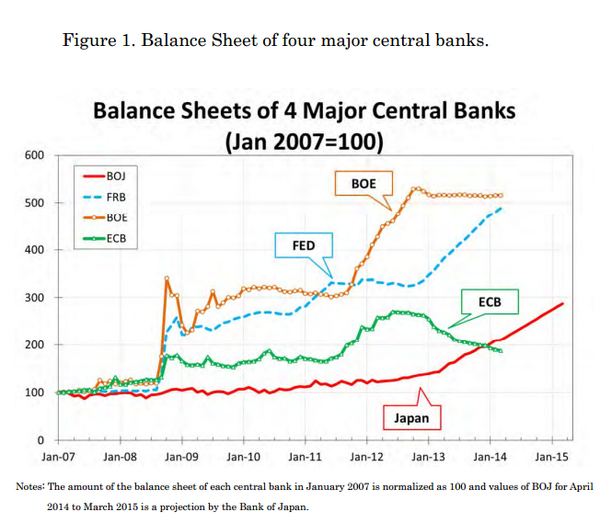 FORWARD GUIDANCE
-BOE starts its two-day monetary policy committee meeting
-National Bank of Hungary releases minutes from its July 22 meeting at 1200 GMT
RESEARCH
Inequality Is Damaging the U.S. Economy, S&P Study Says. U.S. income inequality is harming U.S. economic growth by excluding large swaths of the population from its cumulative benefits, Standard & Poor's Ratings Services says in a new report. Tackling an unusual subject for a credit-rating firm, S&P combines a review of recent studies on inequality with its own analysis to find that the gap in earnings between rich and poor can have lasting economic consequences. "The current level of income inequality in the U.S. is dampening GDP growth, at a time when the world's biggest economy is struggling to recover from the Great Recession and the government is in need of funds to support an aging population," the firm said in the report published Tuesday.
COMMENTARY
RBS rate strategist Bill O'Donnell argues the Fed's inevitable move from zero interest rates is going to be all the more complicated because banks have become chastened by the heavier burden of post-crisis regulation. Having pulled back their risk-taking, there will be a vacuum in risky asset markets once central bank liquidity dries up, he contends. Citing a New York Fed paper from January 2008, O'Donnell says, "You can't have a unified recovery unless financial-sector balance sheets are expanding." For him, "this whole subject of financial-sector regulation has kept me from falling for the siren song of the green shoots [of economic recovery] that have never emerged." Dow Jones Newswires
Writing in Foreign Policy, Kevin P. Gallagher urges a more multilateral approach to dealing with the impact that changes in monetary policy in large developed economies such as the U.S.  have on global financial flows. "The burden of regulation should not fall solely on the receiving end of capital inflows," he writes. "The source countries of that capital have to play a role as well." At the very least, the Fed should "think about and prepare markets for the global consequences of its policies."
Guonan Ma of the Bruegel think tank concludes that financial conditions in China have become tighter since the global financial crisis, likely contributing to the economy's slowdown. "Chinese policymakers ought to take notice of such marked, sustained and broad-based tightness of the financial conditions," he writes.
Britons often argue that the euro zone's 18 member economies exhibit too much variation in their underlying structures to be able to safely share a currency. But Waltraud Schelkle of the London School of Economics argues that the U.K. displays similar variety, particularly between its north and its south, and that the "Poundzone" is as flawed as the euro zone.
BASIS POINTS
-With the construction industry leading the way, the U.S. nonmanufacturing sector's expansion warmed up in July, according to data released Tuesday by the Institute for Supply Management.
-German manufacturing orders surprisingly tanked in June, as geopolitical risks weighed on orders, official data showed Wednesday.
SIGN UP: Grand Central, straight to your inbox.
FEEDBACK LOOP: Send us your tips, suggestions and feedback. Write to: Jon.Hilsenrath@wsj.com; Victoria.McGrane@wsj.com; Pedro.daCosta@wsj.com; Michael.Derby@wsj.com; Nell.Henderson@wsj.com; Brian.Blackstone@wsj.com; jason.douglas@wsj.com; Ben.Leubsdorf@wsj.com; Paul.Hannon@wsj.com; Jacob.Schlesinger@wsj.com sarah.portlock@wsj.com
Follow us on Twitter: @WSJCentralBanks, @NHendersonWSJ, @pdacosta, @Blackstonebrian, @PaulHannon29, @michaelsderby, @vgmac, @wsj_douglasj, @BenLeubsdorf, @JMSchels, @MargitFeher @NirmalaMenon @ToddBuell @sarahportlock
---

Follow @WSJecon for economic news and analysis

Follow @WSJCentralBanks for central banking news and analysis


Get WSJ economic analysis delivered to your inbox:


Sign up for the WSJ's Grand Central, a daily report on global central banking


Sign up for the Real Time Economics daily summary

If the article suppose to have a video or a photo gallery and it does not appear on your screen, please Click Here

6 August 2014 | 11:41 am – Source: blogs.wsj.com