Two British grandparents due to be extradited today to the United States on fraud charges have been rushed to hospital.
Journalists who were expecting Paul and Sandra Dunham to make a statement from their Northampton home before reporting to a London police station at 10am called police after the couple failed to appeal.
Police forced entry to the property just after 7am and two people were taken to hospital.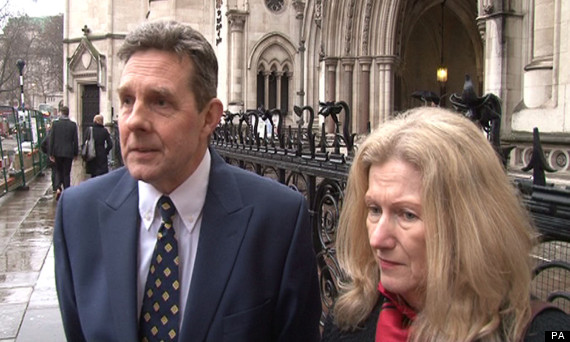 Paul and Sandra Dunham, the retired British couple set to be handed over today for extradition to the US
According to BBC Radio Northampton, the couple were put in separate ambulance, with Mr Dunham walking with some assistance, and his wife taken in a wheelchair.
Dunham, the former chief executive and president of US manufacturer Pace, was indicted on 13 counts of fraud and money laundering by a grand jury in 2011, with his wife accused of aiding and abetting them.
They "vehemently reject" allegations relating to expenses claims by Mr Dunham while he was working in the US, arguing the spending was sanctioned by Pace's board and that auditors raised no objections.
Dunham told the BBC on Wednesday that he feared being sent to prison for up to year before trial with "rapists and murderers" but if granted bail in the US, he and his wife could take no money with them, and could not afford to live.
He said US prisons had inadequate facilities for the couple's health problems.
Their appeal against extradition was rejected by the European Court of Human Rights earlier this year.
He has also questioned why he and his wife are being sent to stand trial despite suffering mental and physical illnesses while a judge blocked attempts to extradite Haroon Aswat, who is wanted for allegedly conspiring with radical Muslim cleric Abu Hamza.
Lord Thomas, the Lord Chief Justice, last month temporarily halted moves by the Home Secretary to extradite mentally ill Aswat unless the US government gives specific assurances protecting his health and human rights.
A statement from Northamptonshire Police said: "Police were called to an address in Collingtree, Northampton, this morning following concerns raised about the welfare of two people.
"Police attended the property at approximately 7.15am, forced entry and called paramedics.
A spokeswoman for East Midlands Ambulance Service NHS Trust said: "We received a call from Northamptonshire Police at 7.47am concerning the welfare of a male and female.
"A fast response vehicle (FRV) was first on scene followed by two double-crewed ambulances (DCA) who took two patients to Northampton General Hospital."
"Two people were taken to Northampton General Hospital."
";
var coords = [-5, -72];
// display fb-bubble
FloatingPrompt.embed(this, html, undefined, 'top', {fp_intersects:1, timeout_remove:2000,ignore_arrow: true, width:236, add_xy:coords, class_name: 'clear-overlay'});
});
15 May 2014 | 11:14 am – Source: huffingtonpost.co.uk
———————————————————————————————————————