The frantic 911 call made by the owner of the dog who attacked in a child only to be seen off by a cat, has been released.
When the operator answers the call, the woman tells her: "Yes it's an accident, my dog bite a kid right here next door."
In the background, the child's mother can be heard screaming: "Oh my god get him out of here!"
The injured child – Jeremy Triantafilo – can also be heard crying.
The operator asks if an ambulance is needed and the owner replies: "Yes" before explaining the dog escaped from her property as her son pulled out of her gated driveway.
Jeremy was riding his bicycle in Bakersfield, California, when the dog raced up to him and began mauling him.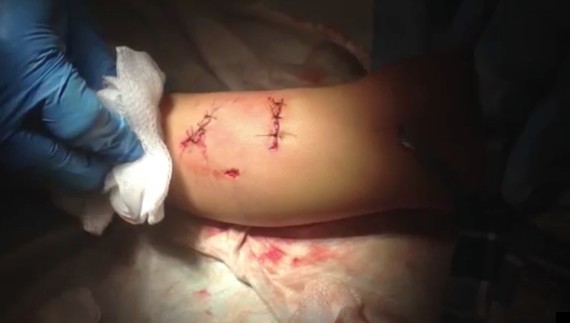 Jeremy Triantafilo received 10 stitches after the attack
While the four-year-old lay helpless on the ground, Tara the family comes bounding into the frame and chases off the canine.
Jeremy, who is mildly autistic, needed 10 stitches for a deep leg wound, but rescue moggy Tara's bravery undoubtedly spared him further injuries.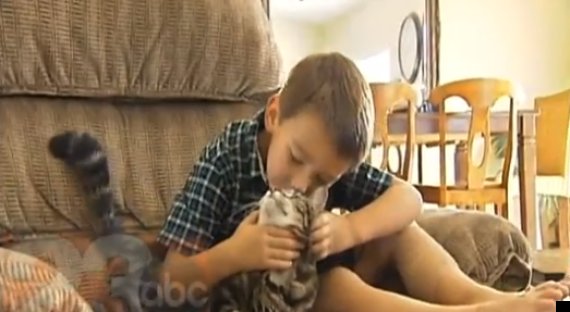 Jeremy and Tara share a kiss
On Thursday it emerged the dog's owners had taken the animal straight to the Bakersfield Animal Care Centre, where it will remain for 10 days before being put down.
In a TV interview with ABC23, Jeremy, who is mildly autistic, told reporters: "I love Tara a whole lot."
"She's a hero," he adds, before pointing out: "She has whiskers."
Loading Slideshow
Hero Cat Tara Saves Boy From Savage Dog Attack

Tara relaxing at home after the attack

Hero Cat Tara Saves Boy From Savage Dog Attack

Tara relaxing at home after the attack

Hero Cat Tara Saves Boy From Savage Dog Attack

Tara relaxing at home after the attack

Hero Cat Tara Saves Boy From Savage Dog Attack

Jeremy Triantafilo says Tara is his hero

Hero Cat Tara Saves Boy From Savage Dog Attack

Jeremy Triantafilo says Tara is his hero

Hero Cat Tara Saves Boy From Savage Dog Attack

Injuries sustained by Jeremy Triantafilo

Cat Saves Boy From Savage Dog Attack

Cat Saves Boy From Savage Dog Attack

Cat Saves Boy From Savage Dog Attack

Jeremy's mother Erica was watering a tree when the cat raced past

Hero Cat Tara Saves Boy From Savage Dog Attack

Jeremy Triantafilo says Tara is his hero

Hero Cat Tara Saves Boy From Savage Dog Attack

Jeremy Triantafilo says Tara is his hero

Hero Cat Tara Saves Boy From Savage Dog Attack

Jeremy Triantafilo says Tara is his hero

Hero Cat Tara Saves Boy From Savage Dog Attack

Jeremy Triantafilo says Tara is his hero

Hero Cat Tara Saves Boy From Savage Dog Attack

Jeremy Triantafilo says Tara is his hero

Hero Cat Tara Saves Boy From Savage Dog Attack

Jeremy Triantafilo says Tara is his hero
Loading Slideshow
Black Cat Bomb

"You'd rather take a picture of a straw than take one of me?

Shocked Cat Bomb

Who's bombing who?

Behind Bomb

"Ignore me!"

Penguin Bomb

"What are you reading?"

Cat Bomb

Watch out, baby!

MySpace Bomb

At least someone is trying to stop these from happening.

Tail Bomb

Nothing like a perfectly timed tail.

Jumping Dog Bomb

The beer is poison!

WTF Bomb

"Why are you taking pictures of butts?"

Nature Documentary Bomb

It's cool, he's the new boom mic operator.

Riding Bomb

"My turn next!"

Smiling Cat Bomb

Just really happy to be here.

Dog Bomb

"Oh sorry, wrong room."

Red Fish Bomb

At least that last guy is in the picture.

Old School Bomb

This cat's great-grandchildren are probably in this slideshow as well.

Driving Bomb

"Turn left on Sunset."

Watching The Baby Bomb

"I want to sit on the chair."

Stealth Cat Bomb

Sneak attack is underway.

Censoring Dog Bomb

Stopping inappropriate Facebook photo uploads since 2008.

Horse Bomb

How is he even doing that with his neck?

Computer Cat Bomb

What are you doing here?

Another Sneaky Cat Bomb

Also: <a href="http://knowyourmeme.com/memes/soon" target="_hplink">"Soon"</a>

Giraffe Bomb

Talk about a third wheel.

Sneak Attack Bomb

The other cat REALLY doesn't like glamour shots.

Shopping Cat Bomb

"Um, I think someone forgot my Fancy Feast."

Dinner Bomb

"Do I smell fish?"

Let Me Out Bomb

"Um, a little help?"

Curious Giraffe Bomb

What is this contraption.

Underwater Bomb

We're assuming that this guy was attempting to take an underwater selfie.

Disapproving Cat Bomb

He does not approve.

Night Vision Cat Bomb

His night vision is perfect for interrupting hipster photo shoots.

Meerkat Attack Bomb

He stood on that pinecone to get in this photo: commitment.

Landscape Bomb

"Sorry, did I ruin your postcard?"

Family Photo Bomb

Still part of the family.

Beluga Bomb

Maybe planned, still terrific.

Another Jumping Dog Bomb

"My husband and I were taking our border collie, Jack, out for his daily beach run and play. (This) is the photo of him being photobombed. I didn't see the dog until I saw it on the screen after the photo was taken."- Submitted By Laura Hancock

Waterbuck Calf Bomb

"I was trying to take a picture of this cute Waterbuck calf, when it's mom stepped in to see what I was doing to her baby…LOL." Submitted by: Karen Stephens

Curious Dog Bomb

"What, what is this?"

Sneak Attack Dog Bomb

"I was taking a picture of my cat Simon one day when Teddy got a bit jealous (like he always does). Hope you enjoy!" Submitted by: Hali Jakeman

Green Bird Bomb

Submitted by: Karen Lyons Kalmenson

Scary Cat Bomb

In our experience cats really do hate driving.

Jumping Dog Bomb

This dog is huge!

Cat From Above Bomb

Where was this cat standing?

Corner Dog Bomb

Submitted By: Kylee Callahan

"Soon" Bomb

"Here is Badger, completely unaware of his archenemy Groucho doing the bombing…" -Submitted By: Kimberly Rai Cook

Smooth Dog Photobomb

Submitted By: Heather Smith Robitzek

NSFW Llama Bomb

Submitted By: Christopher Guignon

Kissing Bomb

Hey! Me too, right?

Growl Bomb

Submitted By: Alan Kelly

Dachshund Bomb

"Photobomb of my dachshund with my then 3-month-old daughter." -Submitted By: Melanie Walsh

Bird Bomb

Submitted By: Jean Seraichyk
";
var coords = [-5, -72];
// display fb-bubble
FloatingPrompt.embed(this, html, undefined, 'top', {fp_intersects:1, timeout_remove:2000,ignore_arrow: true, width:236, add_xy:coords, class_name: 'clear-overlay'});
});
15 May 2014 | 2:24 pm – Source: huffingtonpost.co.uk
———————————————————————————————————————