The heroic cat who saved her young master from a vicious dog attack has given her first interview since the rescue. Sort of.
Tara the tabby spends much of the segment trying to leave the frame as a crew from ABC23 try to coax some words out of her owner Jeremy Triantafilo.
The four-year-old manages: "I love Tara a whole lot.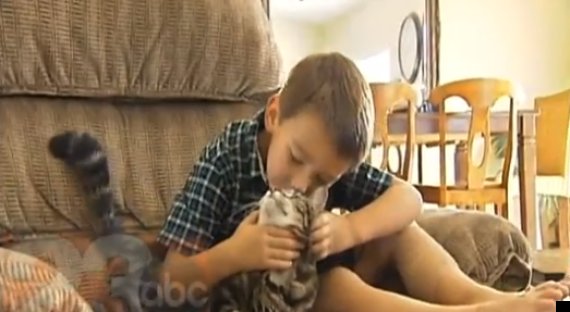 Jeremy Triantafilo and Tara the rescue cat share a kiss
"She's a hero," he adds, before pointing out: "She has whiskers."
Jeremy was riding his bicycle in Bakersfield, California, when a neighbour's dog raced up to him and began mauling him.
While Jeremy lay helpless on the ground, Tara comes shooting into the frame and chases off the canine.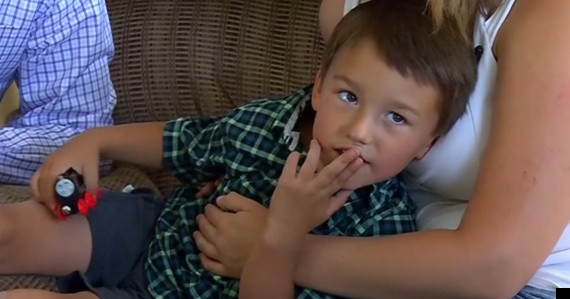 Jeremy had to have 10 stitches after the attack
Jeremy, who is mildly autistic, needed 10 stitches for a deep leg wound, but rescue moggy Tara's bravery certainly spared him further injuries.
Hi mother Erica was watering her plants nearby when the attack occurred and told Sky News: "I remember her hitting the dog.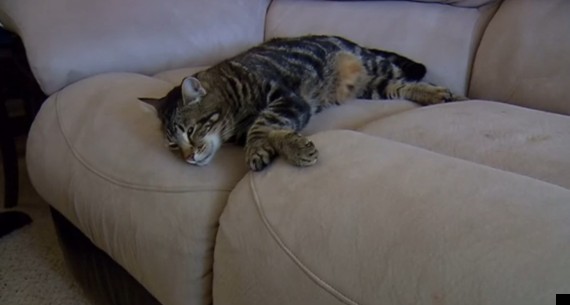 Hero cat Tara at rest
"But seeing the video and seeing exactly what she did and chased that dog away… seeing her turn to check on Jeremy then returning to him. She is my hero."
Jeremy's father Roger added: "She earned her salmon for the year – for life!"
Loading Slideshow
Hero Cat Tara Saves Boy From Savage Dog Attack

Tara relaxing at home after the attack

Hero Cat Tara Saves Boy From Savage Dog Attack

Tara relaxing at home after the attack

Hero Cat Tara Saves Boy From Savage Dog Attack

Tara relaxing at home after the attack

Hero Cat Tara Saves Boy From Savage Dog Attack

Jeremy Triantafilo says Tara is his hero

Hero Cat Tara Saves Boy From Savage Dog Attack

Jeremy Triantafilo says Tara is his hero

Hero Cat Tara Saves Boy From Savage Dog Attack

Injuries sustained by Jeremy Triantafilo

Cat Saves Boy From Savage Dog Attack

Cat Saves Boy From Savage Dog Attack

Cat Saves Boy From Savage Dog Attack

Jeremy's mother Erica was watering a tree when the cat raced past
";
var coords = [-5, -72];
// display fb-bubble
FloatingPrompt.embed(this, html, undefined, 'top', {fp_intersects:1, timeout_remove:2000,ignore_arrow: true, width:236, add_xy:coords, class_name: 'clear-overlay'});
});
15 May 2014 | 9:43 am – Source: huffingtonpost.co.uk
———————————————————————————————————————