Madonna and Katy Perry have unveiled more pictures from their joint photo-shoot for V magazine, and they're every bit as raunchy as you might expect from two of the most controversial stars in the music industry today.
The pictures, taken from a forthcoming issue of V magazine, take on an S&M theme with both of the pop divas wearing leather dresses and posing together provocatively, having teased the shoot on Instagram earlier this week.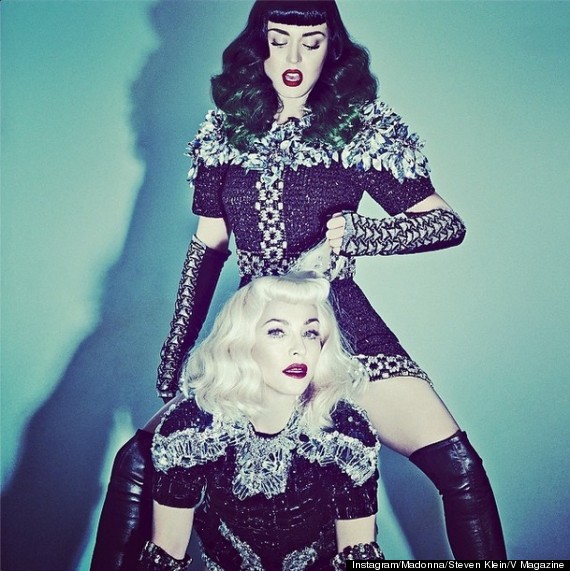 Madonna and Katy Perry
Katy is seen rocking a longer version of the green hairstyle she unveiled earlier this year, while the Queen of Pop seems to have taken inspiration from movie pin-up Bettie Page with her blunt fringe, though her hair is still its trademark blonde.
V magazine have teased some of the pictures on their Twitter profile, which were taken by long-time Madonna collaborator Steven Klein, who has photographed the music legend a number of times across her career.
Although neither star is particularly shy about baring the flesh, this is the sexiest photo-shoot we've seen from either of them in a while, with one bondage-inspired snap showing Madonna bound at her hands and feet on a leather sofa while Katy pulls at her ropes.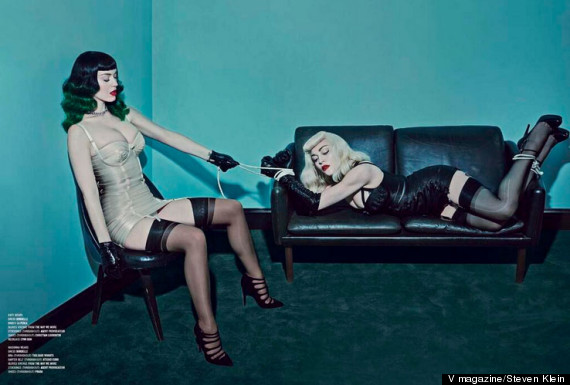 Madonna and Katy in their bondage-inspired photos
While Madonna has become well-known for her yoga moves, Katy has admitted that physical strain of the photo-shoot put a strain on her, telling the magazine: "I was sore in my upper body and in my butt area from all that squatting."
To that fitness fanatic Madonna simply replied: "It's good to be sore in your butt. My neck is sore from that wonderful moment when I was sucking on your heel."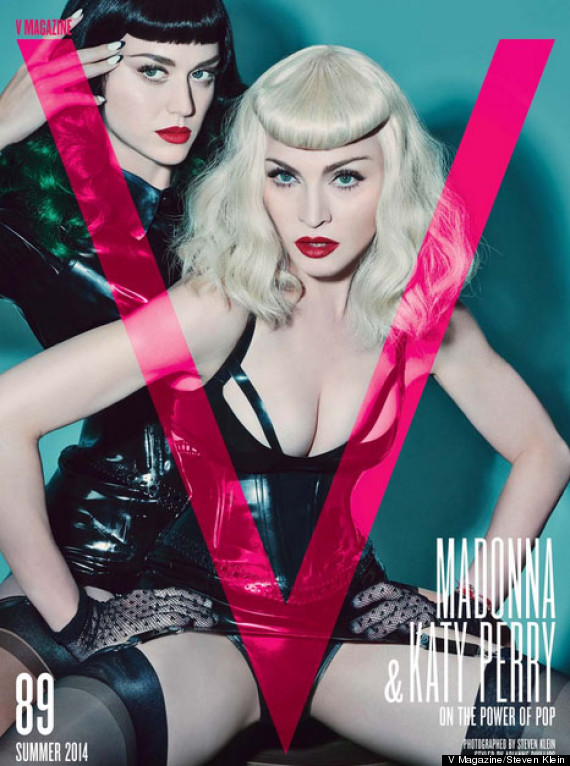 Their photos are available in the new issue of V magazine, available from May 26
Also on HuffPost:
";
var coords = [-5, -72];
// display fb-bubble
FloatingPrompt.embed(this, html, undefined, 'top', {fp_intersects:1, timeout_remove:2000,ignore_arrow: true, width:236, add_xy:coords, class_name: 'clear-overlay'});
});
22 May 2014 | 5:36 pm – Source: huffingtonpost.co.uk
———————————————————————————————————————