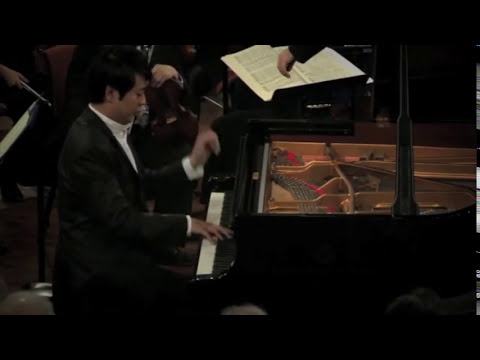 Because everything in China comes in awesomely large numbers, journalists get trigger-happy when they cite statistics; and the figures I've seen quoted for the number of young Chinese learning the piano range from 20 million up to 40 million, which suggests that no one really knows.
But clearly it's a lot, inspired by Lang Lang who has pin-up status among Chinese children. And the law of averages dictates that many of them will emerge as serious talents. In fact, some are so damned talented they make your jaw drop to the floor – as mine did the other night at the Oxford Philomusica International Piano Festival where a select group of them, shipped over by Lang Lang himself, filed onstage at the Holywell Music Room and more than lived up to their billing as "Young Prodigies".
For reasons I've never quite sorted out, Lang Lang has forged a meaningful relationship with Oxford Philomusica and adopted its Piano Festival, which runs with an academy and masterclasses alongside, as something of a cause. So this year it was fixed for half a dozen scholar-beneficiaries of his international foundation to fly over, mix with the academy participants, and show a British audience what they can do.
With one exception they were all Chinese – some studying in Asia, some America. The eldest was just turned 16, the youngest 11. And to be frank, what they did was scary. Almost every performance was a triumph of technique over style, with bizarre parodies of adult concert behaviour masking a lack of real engagement with the idiom of what they were playing. And there was an element of pathos in that one of them, a boy so small he almost had to stand up at the keyboard, was in full tails, while another hopped onstage in crutches with a broken leg. But nonetheless the 16-year-old Derek Wang delivered Berg's formidable Op.1 Sonata with the dazzling flair of something very like first-rank professionalism. And most remarkable of all, the 11-year-old William Chen (who could have passed for 8) played Chopin's showpiece Andante Spianato et Grande Polonaise with a combination of mastery and maturity no child should possess.
If you ever doubted that the Chinese were poised to take over the universe, here was proof: disturbing but impressive. What they did was way beyond what any British child of comparable age could do. I only hope that armed with such incredible abilities, these players (who were all quite heavy-hitters) don't grow up to be a tribe of Lang Langs. That's the real fear.
• Get the latest comment and analysis from the Telegraph
• Read more from our news and politics bloggers
If the article suppose to have a video or a photo gallery and it does not appear on your screen, please Click Here

4 August 2014 | 2:37 pm – Source: telegraph.co.uk