nbn™, the organisation building and operating Australia's National Broadband Network, has emitted new canned statements to describe its progress that, as always, have a slightly soviet feel to them because as always everything's going just fine.
The company says it hit all targets and therefore "demonstrated continuing momentum and further ability to scale the business leveraging the multitechnology mix (MTM) to bring broadband access to thousands more Australians." Headline numbers are:
338,000 more premises Ready for Service, making 3.2 million in total
280,000 active end users joined in the quarter, with 1.4 million in total;
AU$181 million landed in the nbn™ bank account for the quarter.
Another headline figure: one million premises can now buy a fibre-to-the-node (FTTN) service.
But the company's results also reveal that the hardest parts of the build are yet to come. To understand why, consider the slide below, which shows construction slowed in the first quarter of fiscal 2017.
That slide shows that Q1 of 2017 was actually a slow-ish building month for the project. And nbn™'s corporate plan (PDF) calls for 2.5m new premises to be made ready for service during financial year 2017.
The 338,000 new connections made last quarter are therefore a nice number, but the company has to exceed it handily for every other quarter of FY 2017. And then smash it in every quarter of FY 2018 when 3.7m new connections are planned.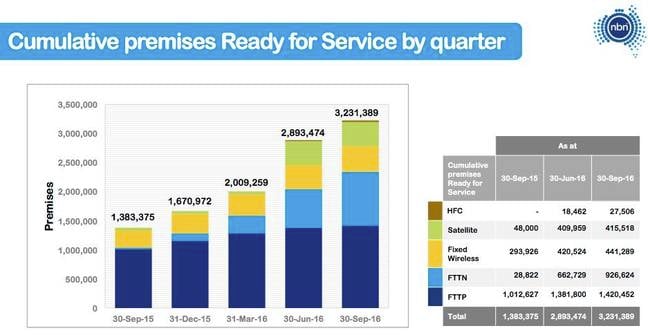 NBN cumulative premises ready for service by quarter. Click here to embiggen
We can also see that in Q4 of 2016, most growth came from satellite connections. The bulk of the FTTN build lies in the future.
The company knows this: CEO Bill Morrow's canned statement says We know that the next two years will be even tougher", adding that this most recent quarter shows "The team is proven and ready for the challenge."
It had better be, because the next seven quarters are scheduled to see more than half of the NBN built.
No pressure, then.
Consider, also, "Cumulative active end users by quarter", which to your correspondent's mind shows that FTTP is done and dusted, in terms of customer adoption. All the growth looks to be coming from FTTN now.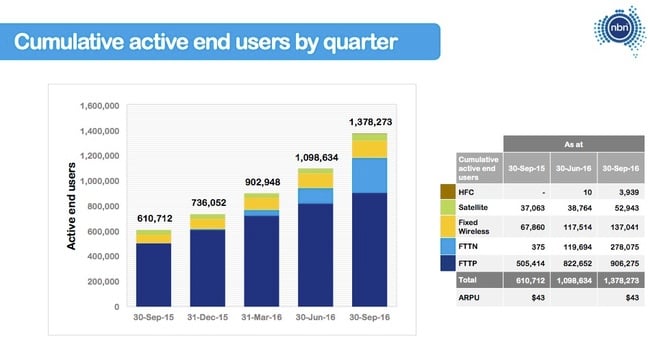 NBN cumulative active end users by quarter. Click here to embiggen
What we don't have is any data about whether FTTN offers a good experience. There's a tiny drop off in adoption of the 100Mbps download/40Mbps upload speed tier. Might that suggest FTTN users aren't able to get the highest speeds on offer? 25Mbps/5Mbps plans certainly look to be the sweet spot for punters. Which hardly bespeaks broad desire for fast broadband.

NBN fixed connection speed tier mix. Click here to embiggen
®
Sponsored:
Customer Identity and Access Management
If the article suppose to have a video or a photo gallery and it does not appear on your screen, please Click Here

8 November 2016 | 1:47 am – Source: theregister.co.uk

[ad_2]