A robot has reportedly broken the world record for solving a Rubik's Cube in the shortest time – the third occasion this year it has fallen.
The builders of the Sub1 Reloaded robot claimed it took 637 milliseconds to figure out the cuboid puzzle at the Electronica trade fair in Munich.
The power for motor control was supplied by a microcontroller in Infineon's AURIS range – similar to the one integrated into drive assistance systems.
Once the shutters of the sensor cameras were removed, the machine judged the position of the squares, previously scrambled in line with requirements of the World Cube Association, then worked out the fastest method and sent the commands to the semiconductors.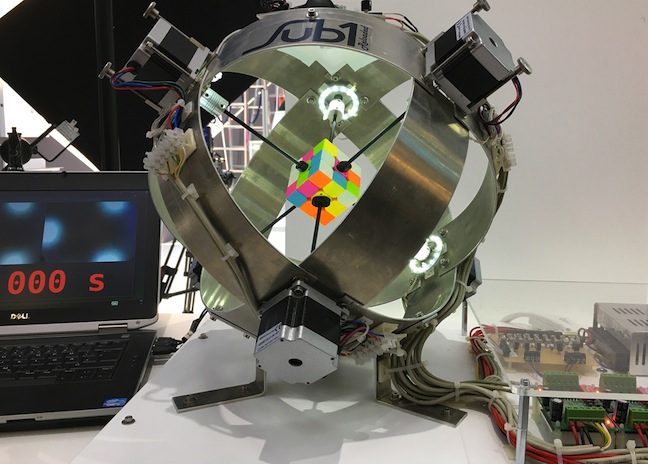 Six motors, one for each side of the puzzle, were then activated – the Rubik's cube has 43 quintillion possible combinations of coloured squares but can be completed in 20 moves.
The human record stands at 4.9 seconds to solve but the robot record was set in February at 0.9 seconds by a machine built by Jay Flatland and Paul Rose, beaten days later by Albert Beer's Sub1 at 0.887 seconds and then again by his latest effort with the Reloaded unit.
People from the Guinness World Records organ were not present in Munich so the Sub1 production team must submit evidence to be reviewed.
Infineon claimed the test had implications for driveless cars:
"Minimal reaction times play an even greater role in autonomous driving. A high data-processing rate is necessary to ensure real-time capabilities with clock frequencies of 200 MHz. As a result of this ability, a vehicle can safely and reliably apply the brakes when it approaches a barrier."
AI boffin Professor Noel Sharkey of the University of Sheffield, told the Beeb, the robot was "ideally suited" to computers programmes and the speed of the puzzle solving was "genuinely impressive".
But he pointed out Rubrik's cube solutions are "algorithmic" and autonomous driving is in an open environment with a "large number of unanticipated sensors".
"The hardest part is in processing the sensory information and trying to work out whether it is a situation that requires braking or swerving or ignoring.
"It is a bit like asking Sub1 if it is a Rubik's Cube in front of it or a pile of biscuits that needs to be crumbled for the base of a cheesecake," said Sharkey. ®
Sponsored:
Customer Identity and Access Management
If the article suppose to have a video or a photo gallery and it does not appear on your screen, please Click Here

10 November 2016 | 1:53 pm – Source: theregister.co.uk

[ad_2]