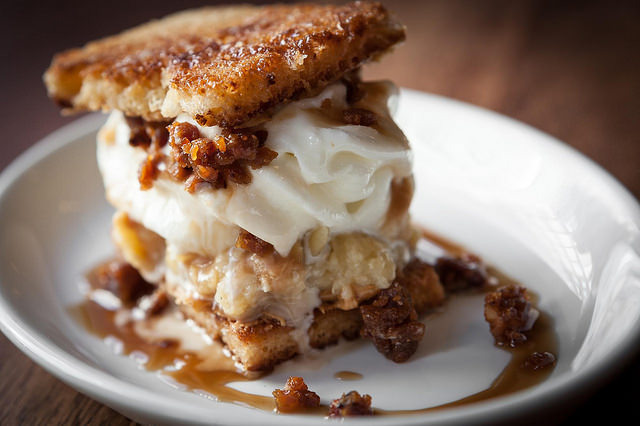 We all know soft serve as the Mr. Whippy-style cone that came handed down to us by the nice man in the ice cream van. It was always piped from a big machine in unmistakeable swirly style, giving it that signature '99' shape. That machine did more than just create the shape though, it made the ice cream itself. Soft serve has high protein content, but lower fat than other ice cream, which means it's less stable and therefore tricky to make at home. Restaurants are now using techniques that range from the old school to the modern (think dry ice) to create silky soft serve in dreamy flavours. We've selflessly eaten our way around almost all of them to create this list of the very best in London right now.
The Elvis Sandwich at Foxlow
This one ticks two childhood memory boxes by its being both an ice cream sandwich, and loaded with soft serve. The ice cream here is milk flavoured, and sits between two slices of toasty brioche that have been fried with cinnamon sugar. There's a peanut butter and banana compote. There is peanut butter sauce. There's some bacon that's been cooked in maple syrup. Still with us? Why are your eyes all glazed over like that? Is that drool?
Foxlow, see website for locations
Gelupo
One of London's most famous and popular ice cream parlours is of course in on the soft serve game. This little sister to the restaurant Bocca di Lupo has a regularly changing menu so we can't guarantee which flavours will be available, but we've recently enjoyed and loved the melon soft serve sorbet. One of the reasons Gelupo is the best is because they're not afraid to be different. We've seen recent creations involving fruit leaves and, on a non-soft serve note, their blood orange granita is legendary. 
Gelupo, 7 Archer St, London W1D 7AU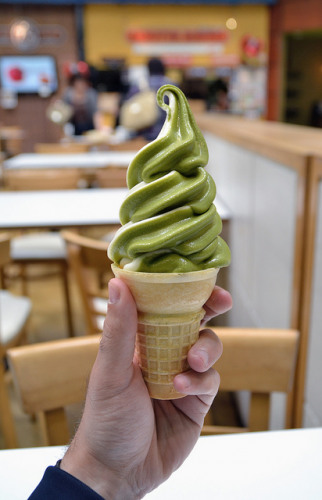 Green Tea Soft Serve at Shackfuyu
We're not entirely sure how this particular soft serve became as famous online as it did, but it does taste fabulous and it does come with French toast. The kinako French toast is a sticky-sweet, caramelised cushion that's the best kind of stodge in the middle, and the most wonderful crisp at the edges. It's both syrupy and toasty and there's only one thing that could improve it — green tea soft serve ice cream, gently melting on top. Take that spoon, dig in and we'll see you in five minutes when you've scarfed the whole thing and there's just a few remaining crumbs stuck to the side of your face.
Shackfuyu, 14A Old Compton St, London W1D 4TJ
Chick 'n' Sours
This new fried chicken restaurant is excellent for — you've guessed it — fried chicken, but it's also great for — brace yourselves — yes, it's soft serve ice cream. The current flavour is salted milk chocolate ice cream with a white chocolate and miso crumb. Yes, miso. This is all kinds of salty-sweet-savoury fun. They have, perhaps wisely, ditched the slightly off putting 'Weetabix ice cream', for now at least. The inspiration here is driven by a childlike playfulness that we can totally get behind when it comes to food.
Chick 'n' Sours, 390 Kingsland Road, London, E8 4AA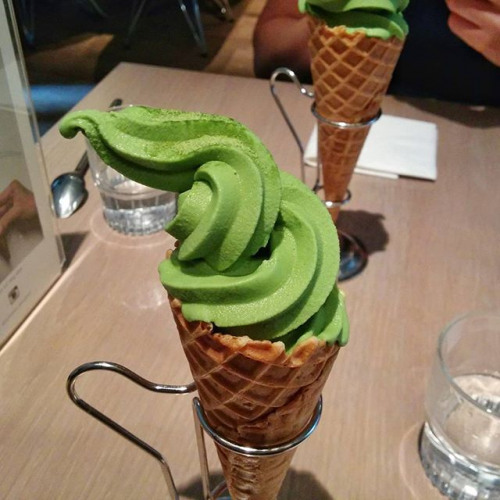 Green Tea Soft Serve at Tombo 
Tombo is a gorgeous little Japanese cafe and matcha bar on Thurloe Place that doesn't seem to get the attention it rightly deserves. The green tea flavour is perfectly pitched in this ice cream, and it's very easy to keep going in for another scoop or lick. We love the way the cones are served in dinky little holders so it's possible to enjoy both the pleasure of the cone but also to put the darn thing down every now and then. This place is perfect for escaping the throngs at the V&A or Natural History Museum, too. 
Tombo, 29 Thurloe Place, SW7 2HQ 
If the article suppose to have a video or a photo gallery and it does not appear on your screen, please Click Here

2 August 2015 | 10:00 am – Source: londonist.com

[ad_2]