Katie Price has reportedly cancelled her upcoming birthday party in the wake of her split from Kieran Hayler, her third husband.
The former glamour model turns 36 next week and was supposed to be enjoying her special day with a tasteful sounding "pink and bling" themed party, organised by Kieran and her best friend Jane Pountney – who confirmed last week that they'd been having an "affair" behind Katie's back.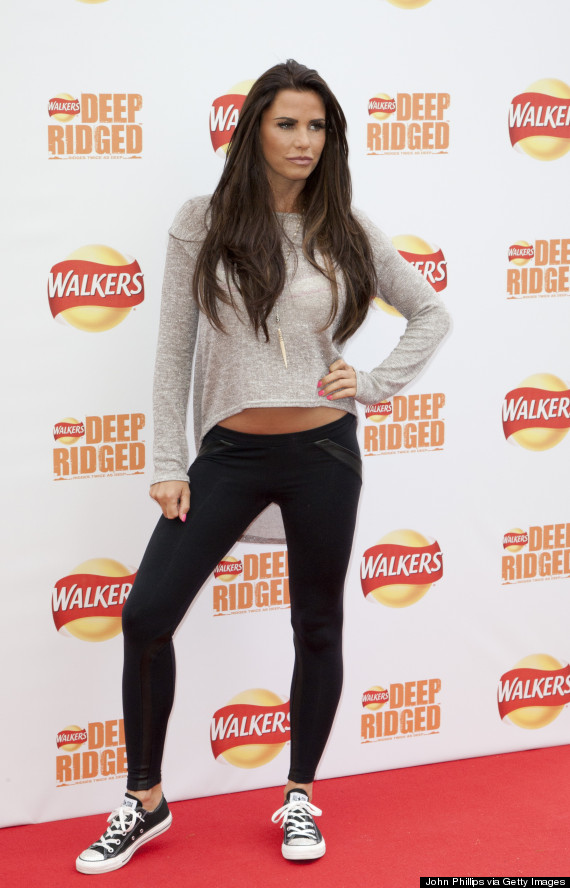 Katie Price
A source told The Sun: "It's so awkward. Kieran and Jane had planned everything for the day so Katie could relax.
"It was based on two of her favourite things, the colour pink and bling."
It's also been reported that another reason Katie, who is six months pregnant with Kieran's child, isn't in the party mood is because she's beginning to feel old.
The source added: "Katie doesn't even want to think about getting another year older in these circumstances, but her family are insisting they still celebrate.
"She's more aware of getting closer to 40 and becoming a mum of five. Katie feels she's losing her youth."
If you ask us she should show up to that party in her biggest, blingiest pink dress and have a good old knees-up with her friends and kids – we'd say she's more than earned a good time after the two weeks she's had.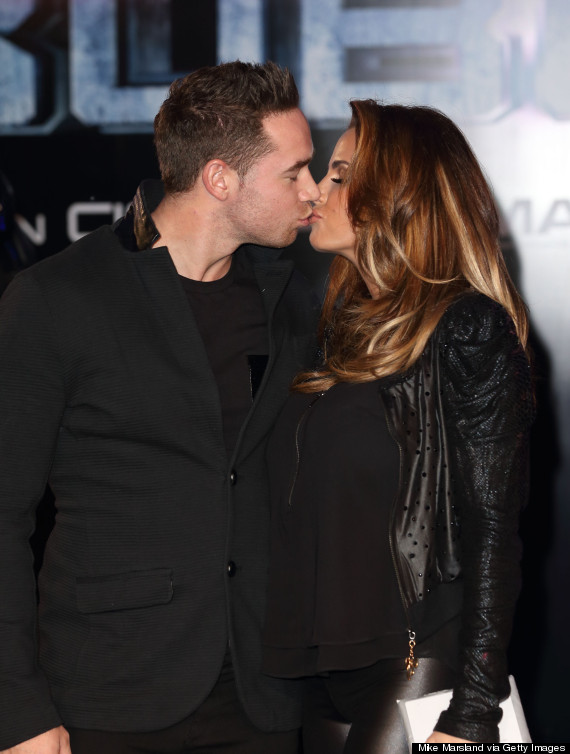 Katie and Kieran
After finding out that her husband had been unfaithful with her close pal of almost 20 years, Katie took to her Twitter page last week to announce that she was divorcing the builder and part-time stripper in a tirade of angry tweets.
The news of Kieran's infidelity came as even more of a blow to the star as just days earlier she'd confirmed that she was pregnant with the couple's second child, her fifth overall.
Earlier this week, she revealed in Now magazine that the split was "too raw" for her to talk about for the time being.
A number of stars have come out in support of Katie, including Chantelle Houghton and Luisa Zissman, while her second husband Alex Reid has publiclyoffered her a shoulder to cry on.
Loading Slideshow
Katie Price's Most Memorable Moments

Katie secured her place as a permanent tabloid staple on the third series of 'I'm A Celebrity', where she met her future husband Peter Andre.

Katie Price's Most Memorable Moments

However, her first big celebrity relationship was with footballer Dwight Yorke, who fathered her first child, Harvey, when she was still best known as glamour model

Katie Price's Most Memorable Moments

She also dated Another Level star Dane Bowers, who she starred in a toe-curlingly embarrassing sex tape with.

Katie Price's Most Memorable Moments

She also shocked us all when she revealed she'd had a brief fling with squeaky-clean 'Pop Idol' runner-up Gareth Gates, which he later blamed for "ruining" his career.

Oh dear.

Katie Price's Most Memorable Moments

Her most famous relationship to date is still undeniably her time with Peter Andre, though, who she was married to for just under four years.

Katie Price's Most Memorable Moments

This is the pair's tasteful outfit choices for the 'Dukes of Hazzard' UK premiere. We can't work out what is the most visually offensive part, Pete's facial expression, or his snakeskin shoes.

Katie Price's Most Memorable Moments

This was also among the couple's biggest fashion fails, of which there were plenty.

Katie Price's Most Memorable Moments

Still… they made some pretty famous friends during their time together.

Katie Price's Most Memorable Moments

Let's face it, she should probably have kept Jerry Springer's number…

Katie Price's Most Memorable Moments

But far worse than their crimes against fashion were their crimes against music… as proven by this performance of their single 'A Whole New World'

Katie Price's Most Memorable Moments

Having grown tired of boring everyone in the United Kingdom with their constant media presence, the couple then revealed they were trying their luck Stateside which… didn't go terrifically, let's just say.

Katie Price's Most Memorable Moments

The pair even ran the London Marathon together in April 2009, but just weeks after this totally sincere and not-at-all-staged photo was taken, the couple announced they were splitting up.

Katie Price's Most Memorable Moments

The split led Katie to go through a bit of a brief "off the rails" period, which led her to head to Ibiza and hit the streets in this notorious gold outfit.

Katie Price's Most Memorable Moments

The look was later parodied by this man… husband no. 2, Alex Reid.

Katie Price's Most Memorable Moments

Her split from Peter Andre also pushed Katie to revisit her failed music career, leading to this lip-sync-for-your-life spectacular performance of 'Free To Love Again' on 'GMTV'.

Katie Price's Most Memorable Moments

She also decided that the best way to get over her split from Pete, and get some closure, was to head back to Australia and take part in 'I'm A Celebrity Get Me Out Of Here'.

Again.

Ultimately, Katie quit after a week after getting fed up of being chosen for every single bush tucker trial.

Katie Price's Most Memorable Moments

Within months of divorcing Pete, Katie was linked to wild-child cage fighter Alex Reid, who she revealed to the world liked to dress up in women's clothing and go by the name of Roxanne.

Weeks after he won 'Celebrity Big Brother', Katie revealed to the world that she was his wife.

Katie Price's Most Memorable Moments

Here he is again, in a lineup of other men dressed up in some of Katie's some recognisable looks.

She's in the middle, in case you can't tell.

Katie Price's Most Memorable Moments

That was just one of Katie's memorable photo calls.

Here she is promoting her own line of iPods, where she's seen rocking them a head-band made of the music devices.

Crafty.

Katie Price's Most Memorable Moments

Here she is taking the title of her 'Kissable' perfume a bit <em>too </em>literally

Katie Price's Most Memorable Moments

And as if that wasn't tasteful enough, here's Katie wearing a bejeweled swimsuit to promote her novel 'Paradise'.

That's one way to get people interested in literature, we suppose…

Katie Price's Most Memorable Moments

Katie was photographed with a cross through her "Pete" tattoo following their split, to really show the world quite how over it and not-even-a-little-bit-bothered she was.

Katie Price's Most Memorable Moments

Ultimately it didn't end well for Katie and Alex, leading her onto pastures new with Argentinian model Leandro Penna, whose English was reportedly so poor the pair needed Google Translate to communicate with each other.

Katie Price's Most Memorable Moments

Still, when you look like that conversation is probably over-rated anyway…

Katie Price's Most Memorable Moments

Katie tried out a totally different look when it came to promoting her hundredth (or at least it felt like it) installment in her autobiography series, 'You Only Live Once'

Katie Price's Most Memorable Moments

And speaking of totally different looks, we… well… we're still not actually what it is that's going on here. But let's just enjoy it.

Katie Price's Most Memorable Moments

Clearly sensing that one Katie Price wasn't enough, she launched 'Signed', a reality series to launch a new protege, which introduced the world to Amy Willerton.

Katie Price's Most Memorable Moments

Obviously fed up of being a prominent feature in every magazine going, Katie decided to launch her own one-off magazine, 'Katie', which obviously flew off the shelves…

Katie Price's Most Memorable Moments

Meanwhile, in came husband no. 3 in the form of builder and – of course- part-time stripper, Kieran Hayler, who ultimately fathered her fifth child, Jett.

Katie Price's Most Memorable Moments

Unfortunately their happiness was short-lived, and in May 2014 Katie revealed – while six months pregnant – that she was calling time on their marriage due to Kieran's alleged extramarital activity…

Oh dear.

Katie Price's Most Memorable Moments

This led to these fabulous pictures of Katie turning up to her best friend's house – who she claimed had been sleeping with Kieran for "over seven months" – wearing some tasteful blue hotpants and Ugg boots.

Katie Price's Most Memorable Moments

Still, with Kieran out of the picture we think we have found Katie a new man already…
Also on HuffPost:
";
var coords = [-5, -72];
// display fb-bubble
FloatingPrompt.embed(this, html, undefined, 'top', {fp_intersects:1, timeout_remove:2000,ignore_arrow: true, width:236, add_xy:coords, class_name: 'clear-overlay'});
});
16 May 2014 | 10:19 am – Source: huffingtonpost.co.uk
———————————————————————————————————————