Kimberley Walsh led the stars attending Lorraine Kelly's first ever High Street Fashion Awards in London on Wednesday night, and proudly displayed her baby bump in the process.
The former Girls Aloud singer – who announced on Twitter back in February that she and long-term boyfriend Justin Scott were expecting their first child together – was photographed arriving at the event in a skin-tight patterned dress that showed off her bump.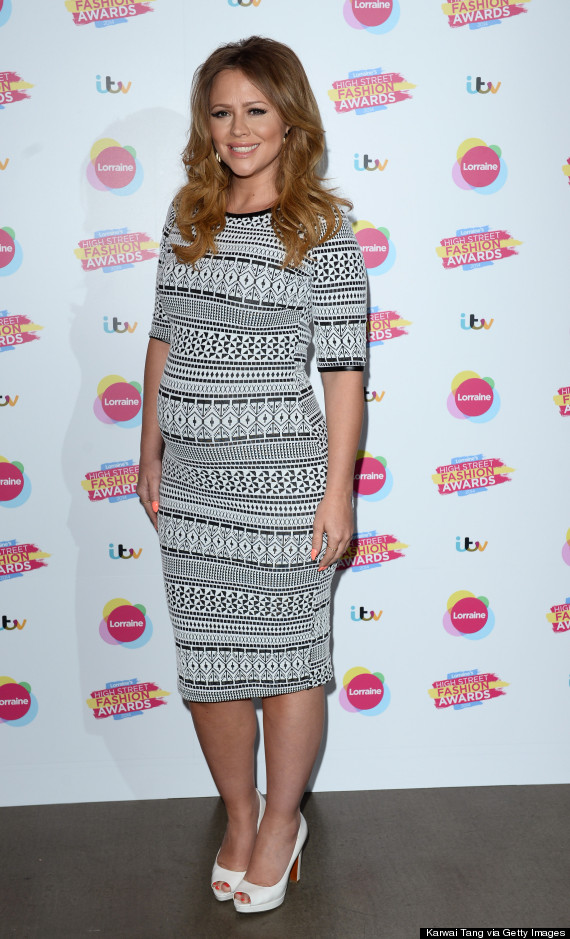 Kimberley Walsh arriving at the High Street Fashion Awards
Earlier this year Kimberley admitted that her former bandmate Cheryl Cole was overcome with emotion when she revealed her happy news, claiming the 'X Factor' judge "burst into tears of joy".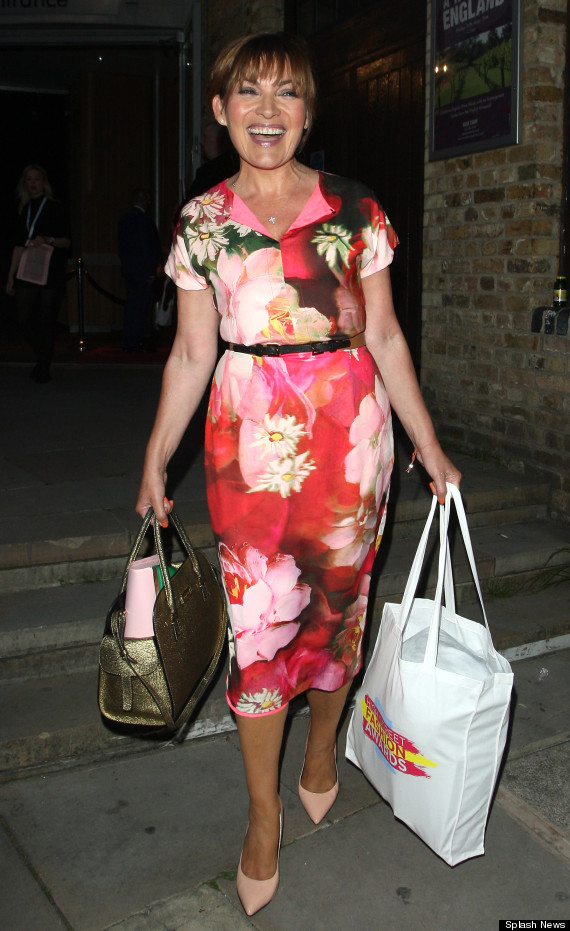 Lorraine Kelly leaves the High Street Fashion Awards
Also in attendance at the event was the woman of the hour herself, Lorraine Kelly, who opted for a slightly less subtle outfit choice, rocking a bold floral-print dress at the event.
Olympic swimmer Rebecca Adlington, who recently began her presenting career with occasional appearances on the 'Loose Women' panel, also looked fabulous in her white dress and wearing her hair to the side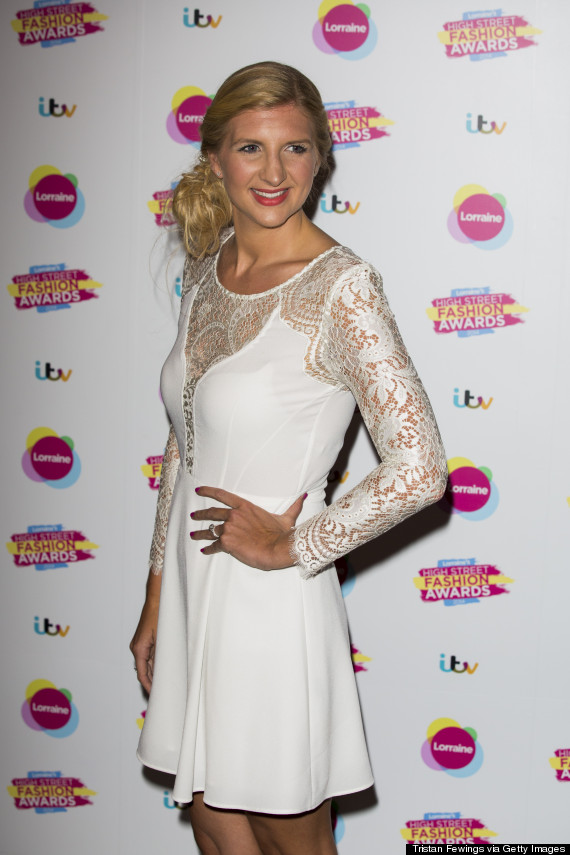 Rebecca Adlington smiles for the cameras
It's refreshing to see Rebecca looking so happy and comfortable at a fashion event, after she opened up last month about the insecurities she holds about her appearance, claiming that although she feels "happier" following her recent nose job, she still wouldn't describe herself as "happy" with her looks.
Loading Slideshow
Pregnant Celebs

<strong>Who's the mumma?</strong> Rebecca Ferguson
<strong>Who's the daddy?</strong> Her non-famous boyfriend of over a year
<strong>Baby ETA: </strong> Later in 2014
<strong>Interesting fact:</strong> Rebecca announced her pregnancy after fans worried for her health when she collapsed during a performance on 'Loose Women'

Pregnant Celebs

<strong>Who's the mumma?</strong> Natasha Hamilton
<strong>Who's the daddy?</strong> Ritchie Neville
<strong>Baby ETA: </strong> Late 2014
<strong>Interesting fact:</strong> It's the first 'Big Reunion' baby – Natasha is a singer in Atomic Kitten, while Ritchie is a member of boyband 5ive

Pregnant Celebs

<strong>Who's the mumma?</strong> Christina Aguilera
<strong>Who's the daddy?</strong> Matt Rutler
<strong>Baby ETA: </strong> Later this year
<strong>Interesting fact:</strong> Christina revealed she was having a baby girl during a concert in Malaysia

Pregnant Celebs

<strong>Who's the mumma?</strong> Erin O'Connor
<strong>Who's the daddy?</strong> Undisclosed
<strong>Baby ETA: </strong> Later this year
<strong>Interesting fact:</strong> The fashion model hasn't revealed the father of her baby, but told You magazine he is "funny and interesting and wears a suit every day to work".

Pregnant Celebs

<strong>Who's the mumma?</strong> Holly Willoughby
<strong>Who's the daddy?</strong> Her husband, Dan Baldwin
<strong>Baby ETA: </strong> Late 2014
<strong>Interesting fact:</strong> This will be the 'This Morning' presenter's third child, she announced the pregnancy on her official website

Pregnant Celebs

<strong>Who's the mumma?</strong> Kimberley Walsh
<strong>Who's the daddy?</strong> Justin Scott
<strong>Baby ETA: </strong> Late 2014
<strong>Interesting fact:</strong> Kimberley broke the news on Twitter, just weeks after the birth of her Girls Aloud bandmate Nadine Coyle gave birth to her first baby.

Pregnant Celebs

<strong>Who's the mumma?</strong> Drew Barrymore
<strong>Who's the daddy?</strong> Will Kopelman
<strong>Baby ETA: </strong> Mid 2014
<strong>Interesting fact:</strong> It's the couple's second child, after Drew gave birth to daughter Olive in 2012.

Pregnant Celebs

<strong>Who's the mumma?</strong> Olivia Wilde
<strong>Who's the daddy?</strong> Jason Sudeikis
<strong>Baby ETA: </strong> May 2014
<strong>Interesting fact:</strong> This is Olivia and Jason's first child, they've been engaged since 2013.

Pregnant Celebs

<strong>Who's the mumma?</strong> Billie Faiers
<strong>Who's the daddy?</strong> Greg Shepherd
<strong>Baby ETA: </strong> June 2014
<strong>Interesting fact:</strong> Billie revealed the sex of her baby in an episode of 'TOWIE' by cutting into a cake to reveal pink icing.

Pregnant Celebs

<strong>Who's the mumma?</strong> Scarlett Johansson
<strong>Who's the daddy?</strong> Romain Dauriac
<strong>Baby ETA: </strong> July 2014
<strong>Interesting fact:</strong> Scarlett is yet to confirm her pregnancy, but reports in People magazine claim the star was five months pregnant when she arrived at the 2014 Oscars.

Pregnant Celebs

<strong>Who's the mumma?</strong> Kelly Clarkson
<strong>Who's the daddy?</strong> Brandon Blackstock
<strong>Baby ETA: </strong> June 2014
<strong>Interesting fact:</strong> This is the American Idol winner's first child. She married her husband in October 2013, marking the occasion with the release of a one-off single, 'Tie It Up'.

Pregnant Celebs

<strong>Who's the mumma?</strong> Kerry Washington
<strong>Who's the daddy?</strong> Nnamdi Asomugha
<strong>Baby ETA: </strong> Mid 2014
<strong>Interesting fact:</strong> This is the first child for the stylish 'Scandal' actress

Pregnant Celebs

<strong>Who's the mumma?</strong> Ciara
<strong>Who's the daddy?</strong> Future
<strong>Baby ETA: </strong> Later this year
<strong>Interesting fact:</strong> The couple got engaged in October 2013. Future proposed with a fifteen carat diamond ring.

Pregnant Celebs

<strong>Who's the mumma?</strong> Lil Kim
<strong>Baby ETA: </strong> Mid 2014
<strong>Interesting fact:</strong> Lil Kim managed to keep her pregnancy a secret until she surprised everyone by arriving at a New York Fashion Week show proudly displaying her baby bump.

Pregnant Celebs

<strong>Who's the mumma?</strong> Jessica Ennis-Hill
<strong>Who's the daddy?</strong> Andy Hill
<strong>Baby ETA: </strong> Late 2014
<strong>Interesting fact:</strong> The Olympian was forced to withdraw from the 2014 Commonwealth Games after discovering she was expecting a baby with her husband.

Pregnant Celebs

<strong>Who's the mumma?</strong> Ginnifer Goodwin
<strong>Who's the daddy?</strong> Josh Dallas
<strong>Baby ETA: </strong> Late 2014
<strong>Interesting fact:</strong> Ginnifer and her fiancé play Snow White and Prince Charming in the TV series Once Upon A Time.

Pregnant Celebs

<strong>Who's the mumma?</strong> Sam Bailey
<strong>Who's the daddy?</strong> Craig Pearson
<strong>Baby ETA: </strong> October 2014
<strong>Interesting fact:</strong> The 'X Factor' winner postponed her first ever headline tour when she found out she was expecting her third child
Also on HuffPost:
";
var coords = [-5, -72];
// display fb-bubble
FloatingPrompt.embed(this, html, undefined, 'top', {fp_intersects:1, timeout_remove:2000,ignore_arrow: true, width:236, add_xy:coords, class_name: 'clear-overlay'});
});
22 May 2014 | 11:19 am – Source: huffingtonpost.co.uk
———————————————————————————————————————