Interview Yesterday TomTom announced seven new consumer products (eight if you count the two SatNav units) with four fitness and three navigation products, its highest High Street profile for some years.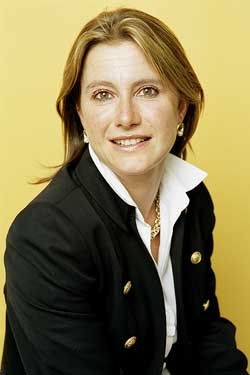 Corinne Vigreux
Tech pundits were preparing the last rites for the SatNav pioneer a few years ago, but it has proved to be resilient. And as others fell away, TomTom is now biggest, and arguably the only consumer tech company Europe has left to boast about – while its industrial and commercial units continue to tick along. This week it again took the No.1 crown in telematics in Europe, for the second year running.
As co-founder Corrinne Vigreux reminded us yesterday:
"We are the last European consumer electronics manufacturer with a global brand. It's just us," pointing out: "All our products are designed are engineered in London and Edinburgh."
Vigreux and husband Harold Goddijn, both former Psion executives, were amongst the navigation firm's four founders in 1991, back when it was established as "Palmtop". Since 2008, Vigreux has been running the consumer business unit.
TomTom entered the wearables market only three years ago, a market that's already shaking out. As you'd expect, TomTom's trackers are simple, easy to use and well thought out. The most interesting part of TomTom's return is the most surprising – and it didn't fit into any strategic comeback masterplan, Vigreux told us.
This is the Bandit action camera.
"We saw that for the products on the market, editing was very difficult. People have hours of film and never edit it. Two years ago, we came across a bunch of people who were fantastic. We acquired them and grew the team."
Rather than follow the GoPro route of taking a camera sensor, stuffing it in a robust case, and using the smartphone as the video editing lab, Bandit's engineers had a trick up their sleeve.
With a built-in media server and sensors, the Bandit generates an instant movie in real-time. The Bandit finds the most exciting bits of your video, and sends a compilation to your phone, saving you the manual load and edit in a video editor. (You can bookmark your own key moments manually, and create a custom movie later if you want – but the point is a the real-time highlights compilation).
It's jaw-dropping stuff to see. The quality of the video is outstanding, too, particularly underwater. Comparing a Bandit to a GoPro, which has its own merits, can feel like comparing a jet to a horse and cart – it doesn't seem quite sporting. Vigreux says it's the most complex product TomTom has made.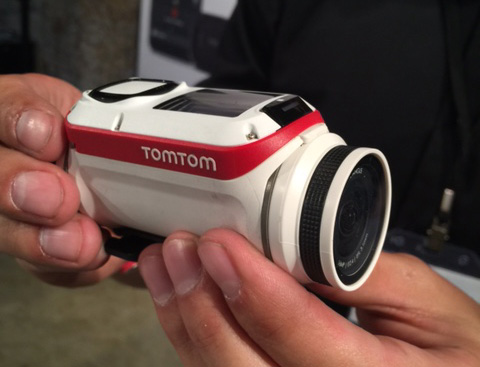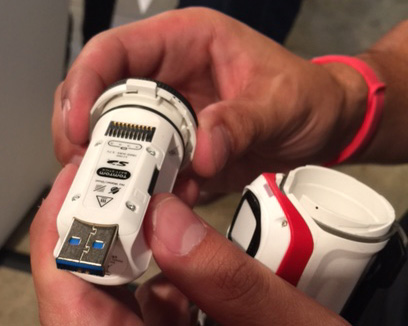 TomTom's Bandit action camera. You don't need to plug it into a USB port, but you can.
Explosive growth
The first part of the TomTom story is well known, the more recent years, probably less so.
It was the classic "overnight success" that was over 10 years in the making. Palmtop had been producing vector-based navigation software for Psion handhelds from the get-go, with the first mapping software launching in 1993, two years after the company was founded. You could rig a Psion to the first GPS modules over infrared.
But Vigreux explains that the business only really took off with the bundling of the software with a GPS and HP's iPaq and a car cradle "in a very big box", retailing at €800: TomTom Navigator. TomTom then thought about putting it all in one box. But even then, the experts were telling TomTom to go no further: GPS services would be embedded in cars.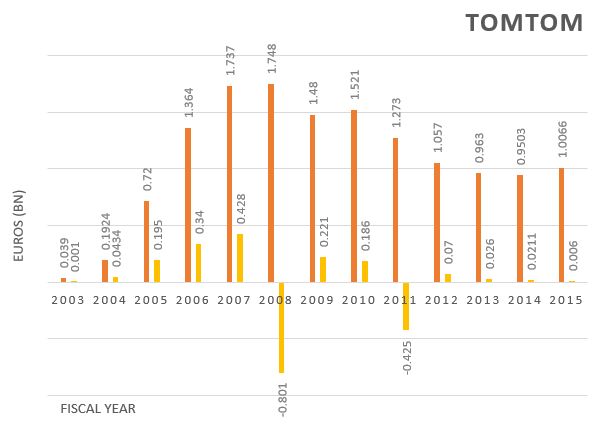 TomTom Financial Results FY 2003-2015; Revenue brown, operating profit / EBITDA yellow. Units: €bn
"Everybody thought GPS would come through the car. Nobody thought it would be an independent product. It's obvious, they said – it's never going to work," Vigreux recalls. "And we didn't have any hardware experience."
But the experts had underestimated the slow pace of the auto industry. GPS was a £2,000 optional extra in cars back in 2003 – if you were lucky.
"Even amongst the retailers, to be honest, few believed us. But because we had a good reputation with our software already, Charles Smith a buyer at Dixon said 'let's give it ago'. And this thing just went through the roof."
After banking €39.1m revenue in 2003, income quadrupled the following year, and TomTom hit the 1€ billion mark revenue in 2006, reaching almost 1.8bn in income in the following fiscal year. It was, as Vigreux says, a faster ramp than the mobile phone.
Then came the crash. Vigreux says this was really down to two things.
"We had a lot of debt because we'd just bought TeleAtlas for 3bn Euros. We'd sold 60 or 70 million devices. The prices were falling."
"And Google gave turn-by-turn away for free with the phone. But we kept investing in R&D, into real time traffic and mapping – and we're back and alive and kicking.
"We'd always had this vision that it would be wonderful if you could get everything in real time. Arguably it's taken longer than we'd hope – but we're well-placed for autonomous driving."
Even in the downturns, and there were two major years of heavy losses. TomTom cut the marketing and overheads but continued to invest in the engineering, betting that its spread of investments across industrial and licensing would pay off. (For example, in 2011 TomTom slashed marketing expenses by 31 per cent, but the engineers were spared.)
"We took Volvo away from HERE. There's only us Google and HERE in that space," Vigreux says.
If the article suppose to have a video or a photo gallery and it does not appear on your screen, please Click Here

9 September 2016 | 12:38 pm – Source: theregister.co.uk

[ad_2]