British actor Timothy Spall has walked away a winner from this yr's Cannes Film Festival, scooping the Best Actor prize for his portrayal of artist M.M.W. Turner in Mike Leigh's movie 'Mr Turner'.
The announcement was made on the Cannes Closing Ceremony, the place Timothy expressed his shock at profitable the extremely-coveted award.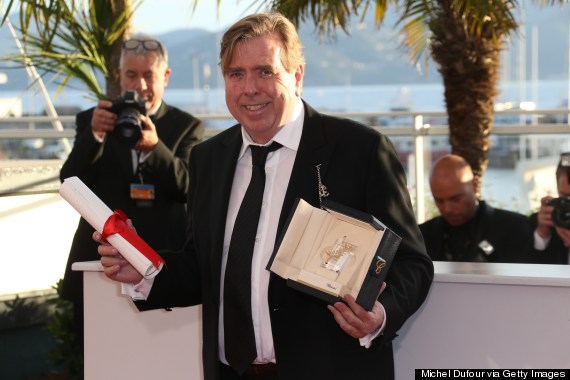 Timothy Spall poses with the Palme A'Or Prize
Speaking to a room filled with Hollywood's largest stars, administrators and producers, Timothy stated: "I've all the time been the bridesmaid at these awards. I've been nominated for BAFTA awards however by no means gained. Now I'm the bride and that is my wedding ceremony breakfast!"
Timothy had travelled to Cannes earlier within the week for his movie's premiere, nevertheless shortly afterwards he left the South of France, heading in the direction of Holland by boat together with his spouse.
It was there that he acquired a name from one of many pageant officers stating he ought to return to France, although they might not inform him why.
Timothy defined the state of affairs to the Daily Mail, stating: "I said ,'Why' and he said,'I can't tell you why, just come back'."
When Timothy and his spouse Shane made it to Nice airport, he observed everybody was behaving unusually.
"There were two police outriders doing wonderful Gaelic hand signals to tell people to get out of the way," he advised the paper.
"They still hadn't told me what was going on and I said to Shane: 'This seems to be slightly different from normal, darling'."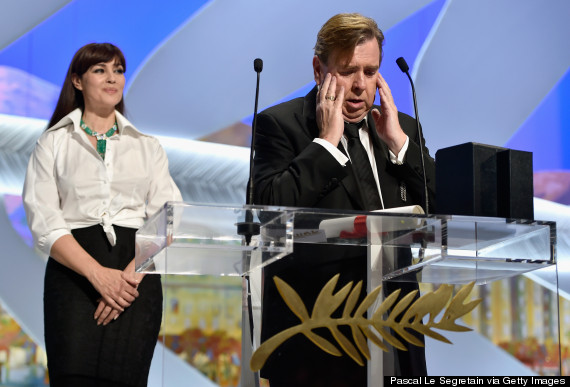 Timothy gave an emotional acceptance speech
"My acceptance speech went on a bit and I couldn't help blubbing up there thinking about what I'd gone through to get to that moment," he added.
"It was Shane, the family and working with Mike Leigh and the hundreds of people who'd put their hearts into the film'."
Critics have already begun speculating over who might be nominated for the Oscars in 2015, and Timothy's Cannes win makes him a scorching favorite.
While Timothy's film acquired loads of reward on the pageant, not each star was as profitable.
Nicole Kidman drew criticism for her star turn in 'Grace Of Monaco' whereas Ryan Gosling's long-awaited directorial debut 'Lost River' was met with mixed reactions.
Loading Slideshow
67th Cannes Film Festival – Closing Ceremony

Uma Thurman arriving on the Palm A'Or Ceremony, the Palais du Festival, a part of the 67th Festival de Cannes.

67th Cannes Film Festival – Closing Ceremony

Paz Vega arriving on the Palm A'Or Ceremony, the Palais du Festival, a part of the 67th Festival de Cannes.

67th Cannes Film Festival – Closing Ceremony

Timothy Spall and spouse arriving on the Palm A'Or Ceremony, the Palais du Festival, a part of the 67th Festival de Cannes.

67th Cannes Film Festival – Closing Ceremony

Jessica Erickson arriving on the Palm A'Or Ceremony, the Palais du Festival, a part of the 67th Festival de Cannes.

67th Cannes Film Festival – Closing Ceremony

Aymeline Valade arriving on the Palm A'Or Ceremony, the Palais du Festival, a part of the 67th Festival de Cannes.

67th Cannes Film Festival – Closing Ceremony

Michael Madsen arriving on the Palm A'Or Ceremony, the Palais du Festival, a part of the 67th Festival de Cannes.

67th Cannes Film Festival – Closing Ceremony

Sofia Copolla arriving on the Palm A'Or Ceremony, the Palais du Festival, a part of the 67th Festival de Cannes.

67th Cannes Film Festival – Closing Ceremony

Winner of the Grand Prix Prize for Le Meraviglie, Alice Rohrwacher on the Palme A'Or Ceremony, the Palais du Festival, a part of the 67th Festival de Cannes.

67th Cannes Film Festival – Closing Ceremony

Winner of the Best Male Actor, Timothy Spall on the Palme A'Or Ceremony, the Palais du Festival, a part of the 67th Festival de Cannes.

67th Cannes Film Festival – Closing Ceremony

Winner of The Jury Prize, director Xavier Dolan on the Palme A'Or Ceremony, the Palais du Festival, a part of the 67th Festival de Cannes.

67th Cannes Film Festival – Closing Ceremony

Nuri Bilge Ceylan wins the Palme A'Or for Winter Sleep on the Palme A'Or Ceremony, the Palais du Festival, a part of the 67th Festival de Cannes.

67th Cannes Film Festival – Closing Ceremony

Nuri Bilge Ceylan wins the Palme A'Or for Winter Sleep on the Palme A'Or Ceremony, the Palais du Festival, a part of the 67th Festival de Cannes.

67th Cannes Film Festival – Closing Ceremony

Winner of the Best Director Award Bennett Miller on the Palme A'Or Ceremony, the Palais du Festival, a part of the 67th Festival de Cannes.

67th Cannes Film Festival – Closing Ceremony

Winner of the Grand Prix Prize for Le Meraviglie, Alice Rohrwacher on the Palme A'Or Ceremony, the Palais du Festival, a part of the 67th Festival de Cannes.

67th Cannes Film Festival – Closing Ceremony

Alain Sarde on the Palme A'Or Ceremony, the Palais du Festival, a part of the 67th Festival de Cannes.

67th Cannes Film Festival – Closing Ceremony

Winner of the Best Director Award Bennett Miller on the Palme A'Or Ceremony, the Palais du Festival, a part of the 67th Festival de Cannes.

67th Cannes Film Festival – Closing Ceremony

Screenwriter Bruce Wagner on the Palme A'Or Ceremony, the Palais du Festival, a part of the 67th Festival de Cannes.

67th Cannes Film Festival – Closing Ceremony

Winner of the Best Male Actor, Timothy Spall on the Palme A'Or Ceremony, the Palais du Festival, a part of the 67th Festival de Cannes.

67th Cannes Film Festival – Closing Ceremony

Sophia Loren arriving on the Palm A'Or Ceremony, the Palais du Festival, a part of the 67th Festival de Cannes.

67th Cannes Film Festival – Closing Ceremony

Aymeline Valade arriving on the Palm A'Or Ceremony, the Palais du Festival, a part of the 67th Festival de Cannes.

67th Cannes Film Festival – Closing Ceremony

Uma Thurman and Quentin Tarantino arriving on the Palm A'Or Ceremony, the Palais du Festival, a part of the 67th Festival de Cannes.

67th Cannes Film Festival – Closing Ceremony

Gong Li arriving on the Palm A'Or Ceremony, the Palais du Festival, a part of FOLLOW US ON TWITTER

Also on HuffPost:
";
var coords = [-5, -72];
// show fb-bubble
FloatingPrompt.embed(this, html, undefined, 'prime', fp_intersects:B, timeout_remove:2000,ignore_arrow: true, width:236, add_xy:coords, class_name: 'clear-overlay');
O:25 pm – Source: huffingtonpost.co.uk
———————————————————————————————————————