A makeshift Ebola ward in Monrovia, Liberia, is a limbo of sorts – a place where people wait to either die or recover from the disease. It really could go either way.
The outbreak spreading through West Africa has a 52 percent fatality rate, according to the World Health Organization, meaning 48 percent of people survive the gruesome infection. And experts say those people could hold clues to Ebola's weakness.
"There's something to be gained from understanding why certain people survive," said Thomas Geisbert, a virologist studying Ebola at the University of Texas Medical Branch in Galveston, Texas. But studying survivors is a tall order in Liberia, Guinea, Sierra Leone and Nigeria – countries simultaneously plagued by Ebola and a dearth of medical infrastructure. "The number one priority for health care workers in this chaotic situation is stopping the outbreak, not a scientific study looking at survivors," Geisbert said.
Looking for Hope in a Hot Zone
Behind the Gates of an Ebola Ward With a Burial Team
Experimental Ebola Drug's Role in Americans' Recoveries Remains Unclear
No one knows why some people recover from Ebola, but there are theories. It could be that they have a smaller viral load – fewer deadly pathogens streaming through their bodies. It could also be that their immune systems are more adept at attacking the virus, which uses spike-like protrusions to invade cells and replicate. The immune response theory is supported by studies of Zmapp, the experimental Ebola drug given to American aid workers Dr. Kent Brantly and Nancy Writebol.
The drug is a cocktail of three synthetic antibodies –- immune proteins that attack the virus's cell-splitting spike, according to Geisbert.
"It's a very specific response," Geisbert said, explaining that antibodies that target other parts of the virus are thought to be less effective at slowing it down. But no one knows whether ZMapp, which has only been tested in monkeys, helped Brantly and Writebol survive the virus. Of the six people known to have received it, four have lived and two have died.
Treatments or interventions could "mimic the response of a survivor."
Brantly also received blood from an Ebola survivor – blood that likely contained natural antibodies to the virus. A 2009 study of blood samples collected during three Ebola outbreaks in Gabon found that antibody levels peaked 30 days after exposure and "declined slowly over several years." But again, there's no way to know if the blood helped Brantly.
A CDC study of blood samples collected during a 2000 Ebola outbreak in Uganda found that people who survived tended to have smaller viral loads and altered levels of immune biomarkers compared to people who perished. "That's valuable information because it gives you insight into the immunobiology of the disease," said Geisbert. "Then you can try to dissect what it means and look at treatments or interventions that mimic the response of a survivor."
Geisbert said the best way to stop the current outbreak is "good old-fashioned epidemiology and outbreak control," and the best way to prevent futures outbreaks is a vaccine. The first phase 1 safety study of an Ebola vaccine is set to start next week, the National Institutes of Health announced today. "I really hope that the next time we're talking about this, those vaccines are across the finish line," Geisbert said.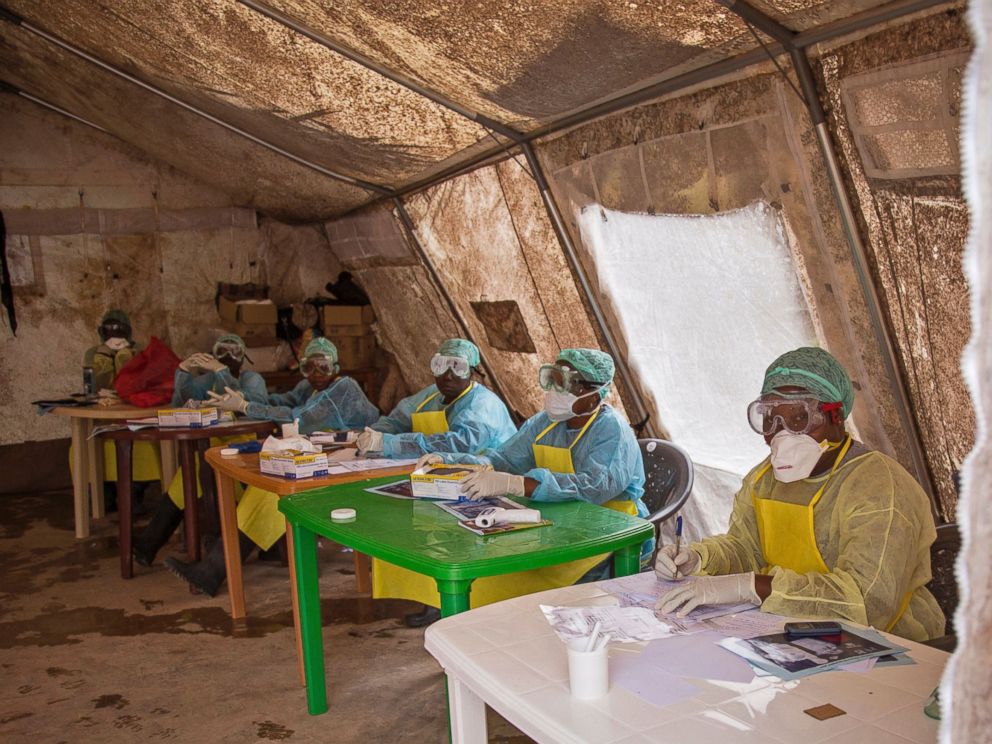 Michael Duff/AP Photo
PHOTO: In this photo taken Saturday, Aug. 9, 2014, a health worker wearing protective clothing and equipment, await patients to screen against the deadly Ebola virus at the Kenema Government Hospital.
If the article suppose to have a video or a photo gallery and it does not appear on your screen, please Click Here

28 August 2014 | 4:37 pm – Source: abcnews.go.com