Huawei Connect "Smart Cities" have been heavily promoted by tech giants like IBM, and the idea excites the pulse of fad-chasing technocrats and wonks.
Huawei has also heavily promoted the vision, and the commercial logic to do so is sound. It is clearly hoping to shift its high end network management gear into a market where the customers are poorer, but less fickle, than in the private sector. Huawei has a wide breadth technology – from SDNs to a lightweight, low latency open source OS for sensors.
Jo So, CTO of industry solutions at Huawei's Enterprise Business Group, provided an update at the company's Connect event in Shanghai this week. He said there were over 100 implementations under the Smart Cities programme. But what I was learned was that despite – or perhaps, because of – Smart Cities' utopian intentions, the vision only really seems to being put into practice by authoritarian city-state strongmen.
There are 3,000 APIs in Huawei's "smart cities" API, said Mr So, but no prescriptive platform. "It's a concept, not solutions," he said.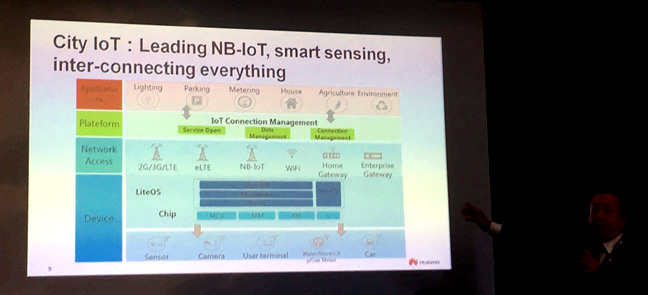 Huawei's Smart Cities vision thing
In the utopian bit comes from co-mingling data silos like er, … your personal medical information, and location data. Starting to feel creepy yet? You will.
Smart Cities involve the "Re-engineering of society's operation by offering more services, lower cost, more inclusive public services, more convenient living, more efficient governance," said Mr So.
But many of the examples were really just customer wins from the networking division. Better managed networks across a campus or city, where in some cases sensor data was being collected. The most ambitious implementations came from Singapore and China.
Nanjing's Smart City implantation had delivered "converged surveillance":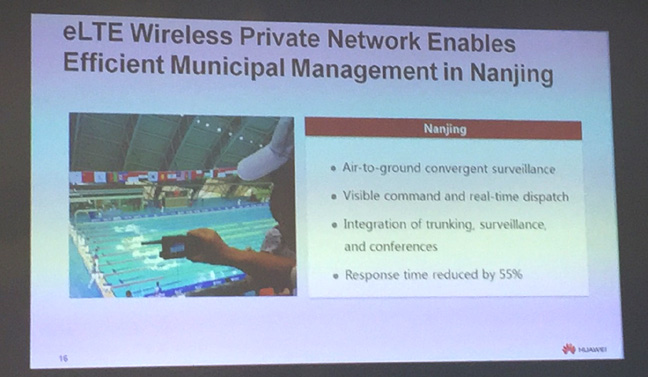 YOUR CAPTION HERE
We noted that in Shanghai almost every bridge now records every passing cars number plate. The camera flashes as you go under it. The imperative of Smart Cities is pervasive data collection.
I put it to Mr So that there might be a probem here. Historically, cities emerge through voluntary association, and are spontaneous and anarchic. Shanghai is a world class example. (There are exceptions, eg Brasilia, but these are rare and not successful). In London, we don't even know how many people live and work in the metropolis: the official and unofficial estimates (from utility companies) differ by over a million. So the governing class, struggling to provide things people really need, turn to technology "solutions" that people don't really want. Mr So had raised the example of "smart lighting" that turns off when there's nobody around. I cited this as a perfect example: street and road lights have been turned off in the UK, and the early results aren't good.
Mr So thought this was an interesting conundrum. He said that city planners needed to do more consultations. They hadn't asked people what they want. That really avoids the issue, though: Planners want different things to people, and typically ignore them. Mr So thought that planners have "people's livelihoods" at heart.
Perhaps Smart Cities aren't happening because of the slow motion car crash of IoT, with its lousy security. Or perhaps people don't care.
Alternatively, it could be just that it's… Creepy. The perfectly functioning "Smart City" diminishes human autonomy: the perfect "Smart City Citizen" is a dutiful robot. No wonder Google wants to start from scratch. That way it can design a posthuman city. ®
If the article suppose to have a video or a photo gallery and it does not appear on your screen, please Click Here

2 September 2016 | 11:25 am – Source: theregister.co.uk

[ad_2]